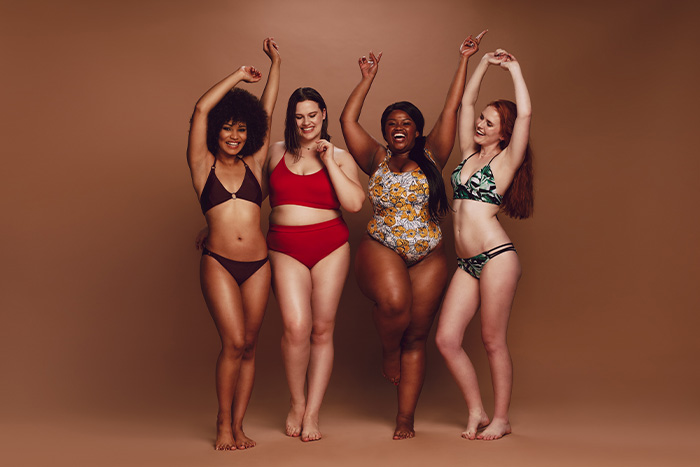 Well, ladies, it's almost summertime. Is anyone else getting excited? While I can't wait for short-shorts, tank tops, and the sun shining on my skin (hello, delicious tan), one thing I'm not so excited about is shopping for swimwear. As a woman with big busts, finding a swimsuit that looks and feels good can be very challenging. The biggest issue is with the swim top (most of the time). It almost never offers the extra support I need, leaving me with a less-than-sexy appearance and plunging confidence levels.
This year, I said, "No more." I will find a bathing suit that accommodates my fuller bust. I will find a bathing suit that offers support while being drop-dead sexy. And ladies, I'm proud to say that I found plenty of top-notch bathing suit options for bigger breasts.
Today, I'm here to share my top 26 picks. Yes, you read that right. There are an impressive 26 larger bust-friendly suits to choose from. Needless to say, you will find the swimsuit of your dreams by the end of this post.
What are we waiting for? Let's dive into the top 26 (so you can be ready to dive into that glistening swimming pool when the time comes!).
#1. Editor's Pick: Tulum Bikini Set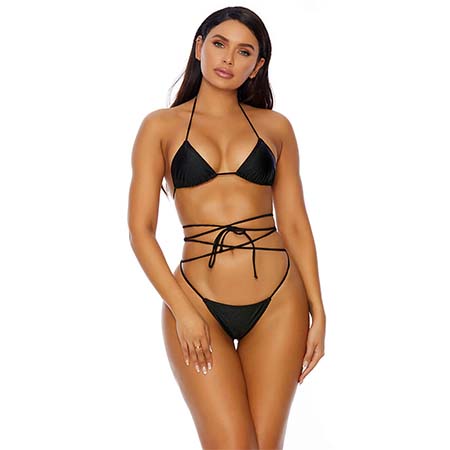 The Tulum Bikini Set is our ultimate top pick. It comes with a flirty triangular top that shows just the right amount of your "goodies." With a halter strap design, it's great for offering support, too. Cheeky bottoms complement this tantalizing swimsuit perfectly, but what really brings this luxurious style together are the sexy wrap-around ties.
#2. Amalfi Coast Bikini Set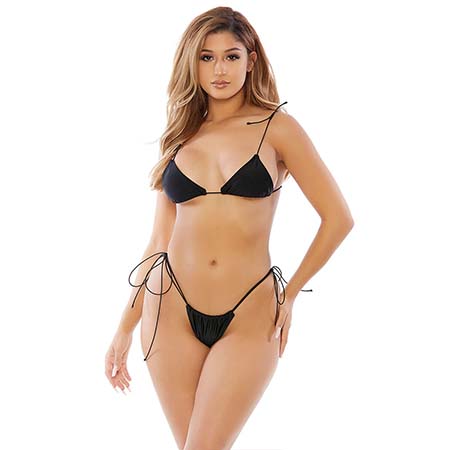 If you're looking to show a little more skin, then the alluring Amalfi Coast Bikini Set is for you. This "barely-there" suit also showcases a skimpy triangular design, but the bungee straps are perfect for holding up larger busts. Below, two high-waisted strings meet to a skimpy piece of fabric that leaves little to the imagination.
#3. Turks & Caicos Bikini Set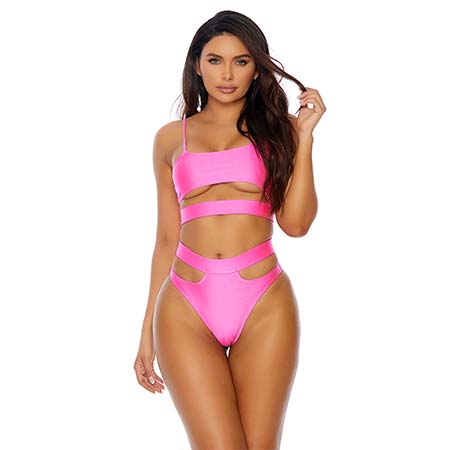 The Turks & Caicos Bikini Set is perfectly designed for summertime vacation fun. The flirty cutouts on the top and bottom are flashy and fun, especially the sultry under-boob cutout. Don't worry, though — the swim top still offers a full-coverage style to handle your larger breasts. You'll love the addition of the trendy asymmetrical straps, too.
#4. Jule Swimsuit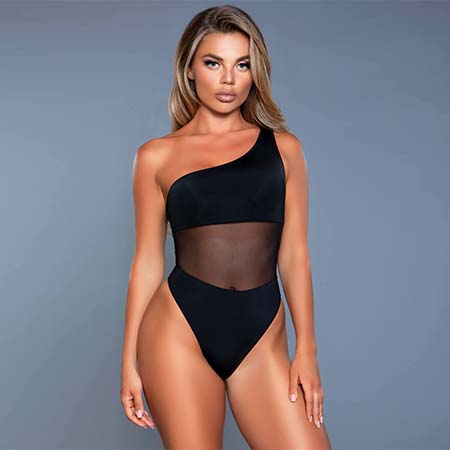 Looking for a one-piece swimsuit that doesn't skimp on style? Consider the Jule Swimsuit. This sophisticated swimsuit comes with a non-wired, single shoulder strap so that you can show off those sexy shoulders with ease. The mesh inner panel offers slight tummy control and belly button peek-a-boo, complete with a cheeky backside.
#5. San Luis Bikini Set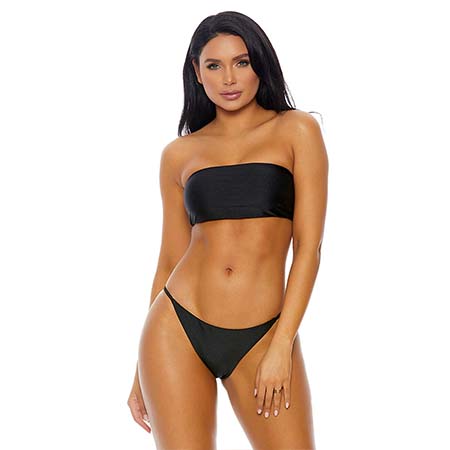 Are you a minimalist? Do you prefer a simpler yet luxurious design? The San Luis Bikini Set might be suitable for you. This alluring number comes with a bandeau top and matching string bottoms for a subtle style that shows off your figure beautifully.
#6. Anguilla One Piece Swimsuit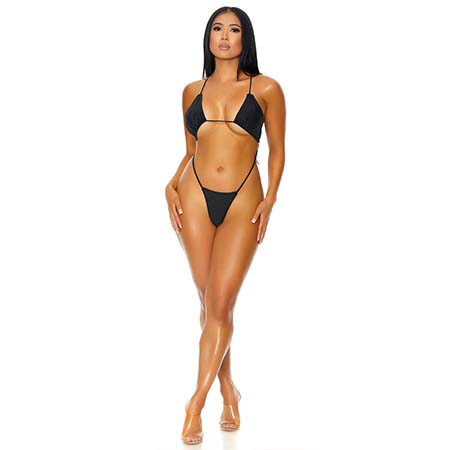 If you're planning to make heads turn while you're strolling beachside, the Anguilla One-Piece Swimsuit is for you. This one-piece comes with three separate triangle ruched pieces, connected by a sparse line of fabric. It might not be the most full-coverage swimsuit option, but it's the perfect piece for ladies that want to show off their bod.
#7. Capri Bikini Swimsuit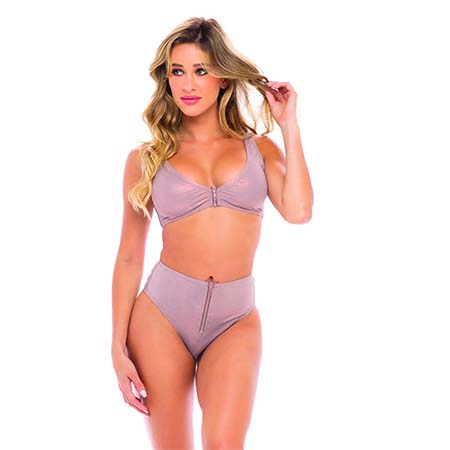 The Capri Bikini Swimsuit is a playful number ideal for beach volleyball tournaments. It rocks a sporty look, with comfy high-waisted bottoms and a lovely ruched top. The ultra-thick straps provide essential comfort and support for larger busts. The sexy zippers are just a bonus.
#8. Aruba Bikini Set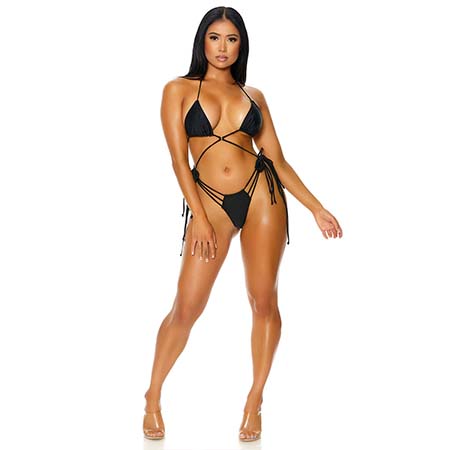 If your summertime antics require you to look like an Egyptian Princess, you'll love this gorgeous Aruba Bikini Set. With straps from top to bottom, this slinky number is designed to hug every curve while ensuring those larger busts don't spill out along the way.
#9. Ibiza High Leg One Piece Swimsuit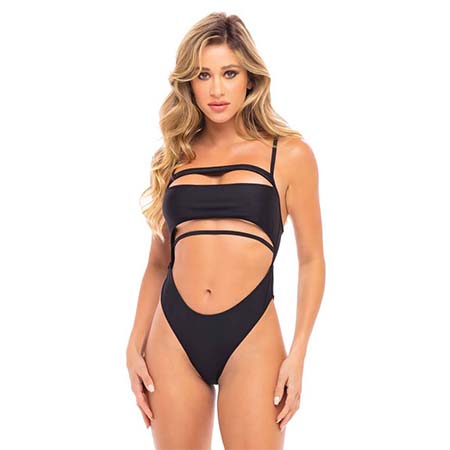 Want a swimsuit that's going to leave a little more to the imagination while still being undeniably hot? The Ibiza High Leg One-Piece Swimsuit is a charming one-piece suit with peek-a-boo cutouts on the top and under the breast. The suit leaves the midriff bare, so you can still show off that adorable belly button charm. The backside comes with a pinch more fabric, covering your tushy while still allowing for a bit of cheekiness.
#10. Dominica Bikini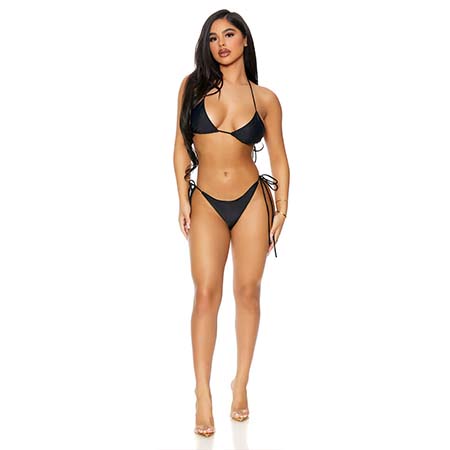 For some women, the classic bikini look is the only style they want to wear. Are you a traditional bikini gal? Then you'll love the Dominica. This alluring number comes with a triangle top and cheeky bikini with sexy ties on the sides. The ties are not only eye-catching, but they allow you to adjust to your size — making it the ideal choice whether you're plus size or not.
#11. Barcelona Bikini Swimsuit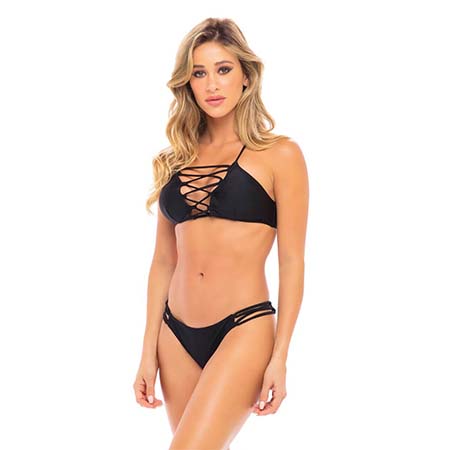 Crisscross fashion? Sign me up. The Barcelona Bikini Swimsuit comes with magnificent crisscross detailing on the top and bottoms. Not only that, but the top comes with additional padding that plenty of larger-busted women crave. You don't have to pass on style or support with this suit. Who said you couldn't have it all?
#12. Rio One Piece Thong Swimsuit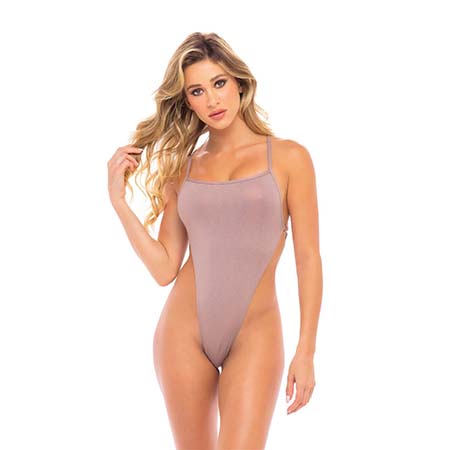 Whoever thought one-piece was humdrum and boring clearly never saw the risqué Rio One-Piece. This dashing number has that "wow" factor, with a high hip cup that accentuates those hips beautifully. With a crisscross strap pattern in the back, this one-piece is anything but your typical one-piece swimsuit.
#13. Lagos One Piece Swimsuit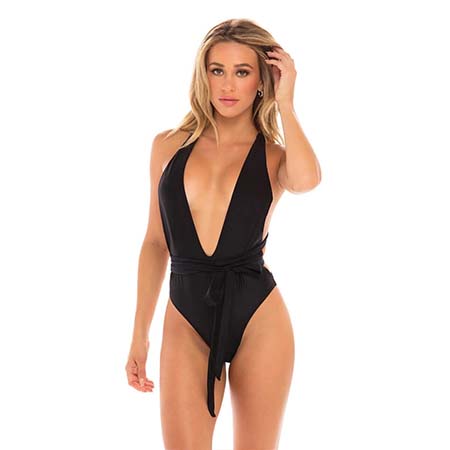 Craving a suit that's crafted to complement your silhouette? The Lagos One-Piece is designed to hug your curves and create a leaner overall figure regardless of your size. That's all thanks to the exciting plunging V-neck neckline and wraps around the waist.
#14. Curacao Bikini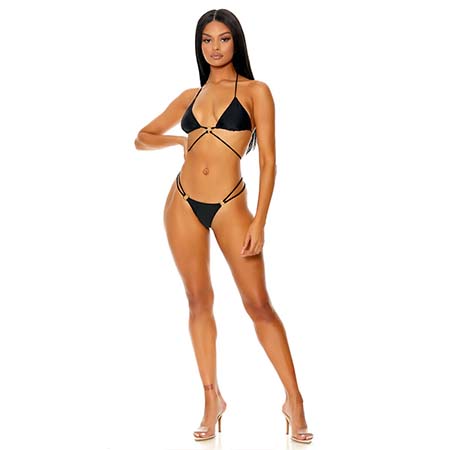 If you didn't get the memo yet: straps are in. And that's why the Curacao Bikini is such a trendsetter. Not only does it come with flawless strappy detailing on the top and bottom, but it breaks free from the pack with gold metal ring detail. If you're looking for a suit that's going to dazzle under the sun, this is the suit for you.
#15. Cover Me Mesh Pool Dress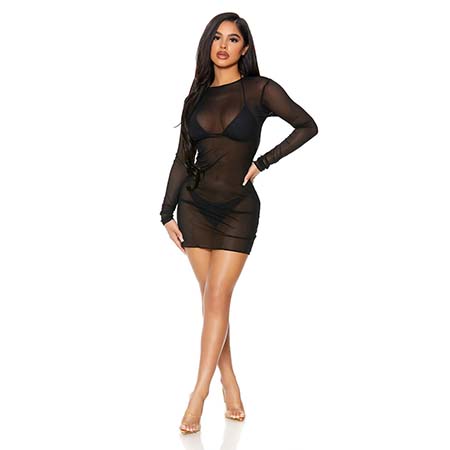 Are you heading out to lunch with your gal pals before taking a dip in the pool? You don't want to let everything hang out, but you also don't want to cover up that booty you've been working so hard for. And that's why every woman should have a swim dress like this glamorous Cover Me Mesh Pool Dress. It's cute and offers sun protection. What more could you want?
#16. Ruched Mesh Pool Dress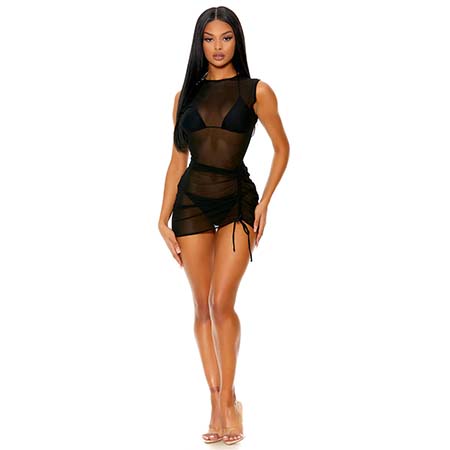 Want to kick your pool dress look up a notch? The Ruched Mesh Pool Dress adds an extra touch of fashion by adding a ruched and knotted bottom. The look allows you to show off a little more leg, not letting that new suntan go to waste.
#17. Saint Croix Bikini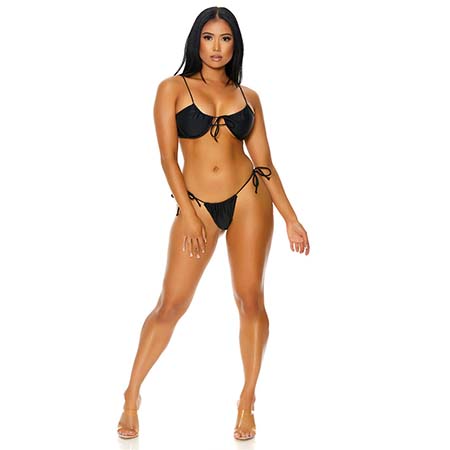 When you think of swimwear, you might not think of underwire. Well, if you're anything like me, then all you really want is underwire for added support. That's why the Saint Croix Bikini had to make the list. The underwire top ensures your girls are comfy and supported, while the adjustable front ties allow you to emphasize as much or as little as you please. Ruched on the top and bottom, this bikini set is undeniably cute and coquettish, too.
#18. Saint Thomas Bikini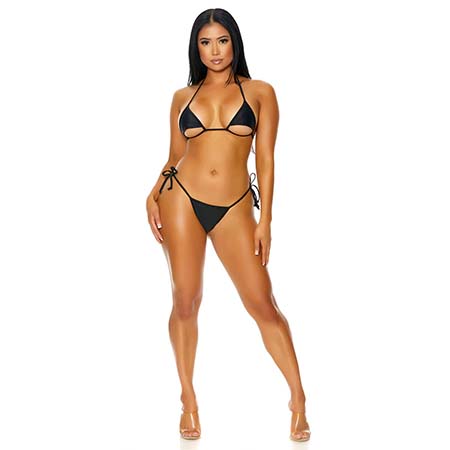 Style alert: straps aren't the only thing you should be looking for this summer. Don't forget sultry cutouts, too. The Saint Thomas Bikini is the picture of fashion perfection, designed with triangle cups complete with under-boob cutouts. This construction hides away your most sensuous parts while letting the rest of your breasts come out to play.
#19. Saint Barths One Piece Swimsuit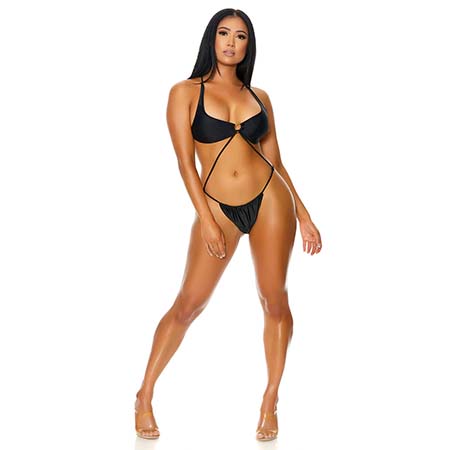 Ruching, straps, and gold metal ring detailing? It truly doesn't get better than the Saint Barths One-Piece Swimsuit. This is the ideal choice for women that want to have it all. The best part is that the crisscross straps in the back ensure you have plenty of added support and comfort to splish and splash without mishaps.
#20. Saint Kitts Bikini Set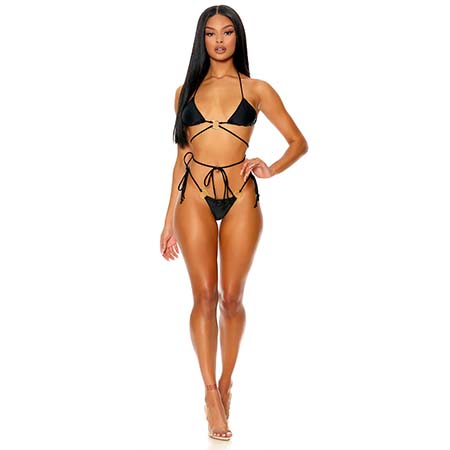 I don't know about you, but as a girl with larger busts, I love a swimsuit with ties. Ties allow for complete adjustments so that you can get the perfect fit every time. That's what the Saint Kitts Bikini Set is all about. Customize to your unique measurements and enjoy a flaunty suit with straps and oversized, look-at-me golden rings.
#21. Saint Lucia Bikini Set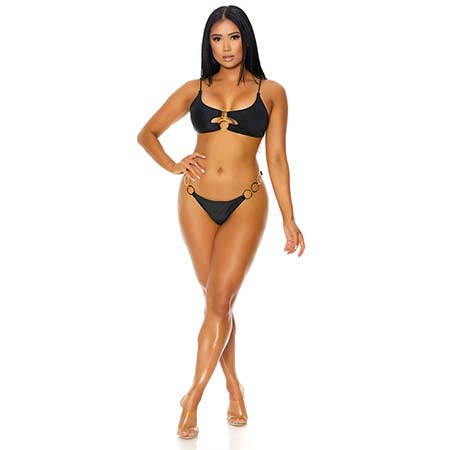 Want a full-coverage top that's still enticing? The Saint Lucia Bikini Set comes with a sporty top with gold metal ring detailing in the middle, drawing attention to your lovely breasts — without compromising coverage and concealment. Down below, you'll enjoy a cheeky bikini with gold metal rings instead of strings. Yes, please.
#22. Martinique Bikini Set
Some ladies want a kittenish swimsuit that plays well poolside, and that's what we love about the Martinique. This adorable three-piece swimsuit set comes with a supportive top, skimpy bottom, and a flirty miniskirt to tie it all together. The skirt sits right above the hips, creating a gorgeous silhouette that won't disappoint.
#23. Saint Martin Bikini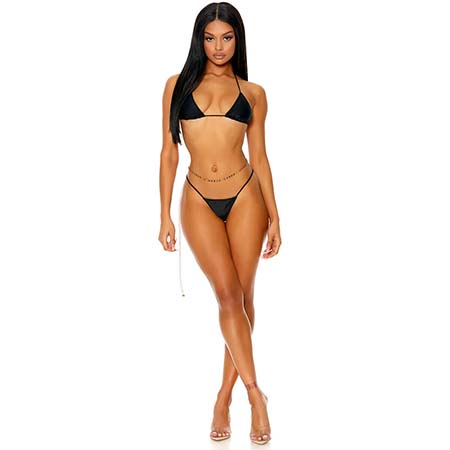 It's true — the belly chain is making a fierce comeback. Why not dip into this trend? The Saint Martin Bikini might be subtle, but it gets some extra "oomph" with the inclusion of the colorful, dangling belly chain. If you worked hard all winter for that perfect tummy, don't sleep on this itty bitty bikini complete with a belly chain.
#24. Bonaire One Piece Swimsuit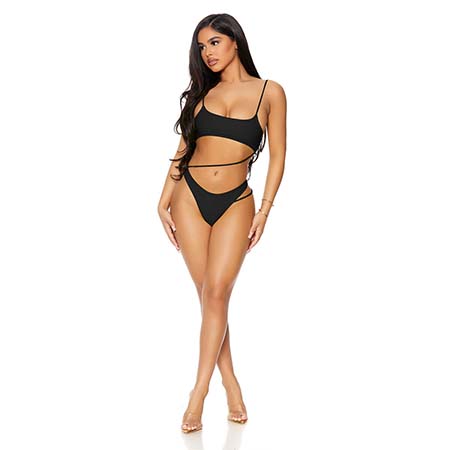 Plenty of women — regardless of cup size, breast size, or body type — are looking for suits that produce a slimming effect. Well, that's why I included the Bonaire One-Piece. This stylish suit comes with (oh-so-popular) straps in a diagonal pattern, which ultimately creates a more flattering figure. You can thank me later.
#25. Nevis Bikini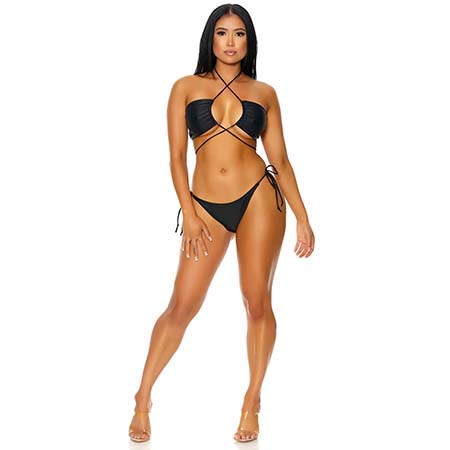 If you're looking for a suit that allows for more adjustments, comfort, and support, you will like the Nevis. Although it might not appear to be the most supportive piece, the thick wrap-around is a larger-busted girl's best friend. The crisscross along the chest leading to an open-bust design isn't too shabby, either.
#26. Grenada Bikini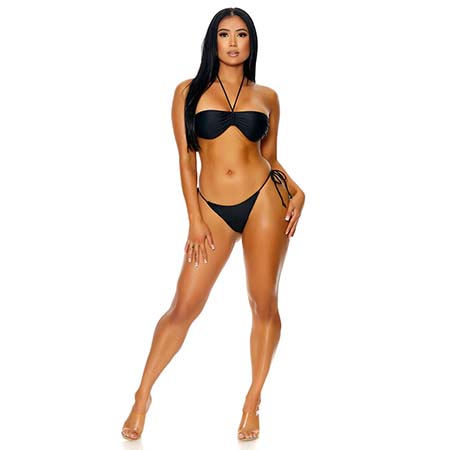 The Grenada is a bandeau-style bikini complete with adjustable straps and an adjustable halter top construction. With so many ways to adjust this suit, it's a perfect match for anyone. Not only that, but the unique tie design creates a fabulous ruching that conceals your girls without being too full-coverage. Perfect combo!
The Bottom Line
Ok girls, listen. I get it. Swimsuit shopping with large busts isn't always fun, but now you have an impressive 26 of the best swimsuits on the market to choose from. Now all you need to do is decide which one works for you, your body top, and bra sizes. Are you more of a high-waisted bikini babe, or do you want retro fashion? Do you want to step out in something "barely-there" that looks more like lingerie, or do you want a full-coverage two-piece set with a DDD underwire bikini top for complete support? Consider your body and style when choosing which of these top 26 bestsellers is suitable for you (don't forget the sunscreen!)
Frequently Asked Questions
What are some tips for finding a good swimsuit?
There are a million and one tips for finding a good swimsuit, especially for those with larger busts. However, whether you're shopping on Amazon, Asos, Nordstrom, or other popular retailers, here are some of the most essential tips to consider:
Support. How much support do the bra cups offer? Women with larger breasts tend to want more support than others, although that's not the case. If you need support, look for padding or underwire.
Comfort. Comfort also plays a significant role in swimwear shopping. For example, some might consider a high-neck top to be uncomfortable. Others might seek out a one-piece suit over a two-piece bathing suit. It all comes down to what you consider comfortable.
Style. While support and comfort are essential, don't ditch your style, queen. We all have different styles we're looking for. An adorable scoop neck strapless ruffle top? Tankini top? A bikini bottom that shows a whole lot of cheek? You're in charge of your final look.
How do you make big boobs look good in a swimsuit?
I'll start by saying this: you look beautiful, girl. Be confident. Never be ashamed or embarrassed by your bra size. However, I totally understand wanting to go the extra mile to look your best. As long as you love yourself already, you can use these simple tips to make your big boobs look incredible in your bikini.
Opt for triangles. A triangle-shaped bikini top will sit perfectly on top of big breasts and create the ideal shape.
Get more support. There are a few ways to do this. For one, look for thick and wide straps or a halter top design. You can also seek out underwire cups or padding to encourage lift and support.
Find adjustable straps. Adjustable straps are a lifesaver in more ways than one, especially when making big boobs look good in a swimsuit. With adjustable straps, you can customize how much lift and enhancement you give to your girls.
Wear a strapless bra underneath. If you really can't seem to get the support you want or need, it might be best to opt for a strapless bra underneath your swimsuit. Yes, it's a little more clothing than you might want, but it might be your only answer in some circumstances.
Make sure it fits. An ill-fitting swimsuit will not look good on anyone, especially if you're a big-breasted woman and your breasts are spilling out every which way. Make sure you're buying a swimsuit that fits properly, is comfortable, and leaves you looking and feeling your best.