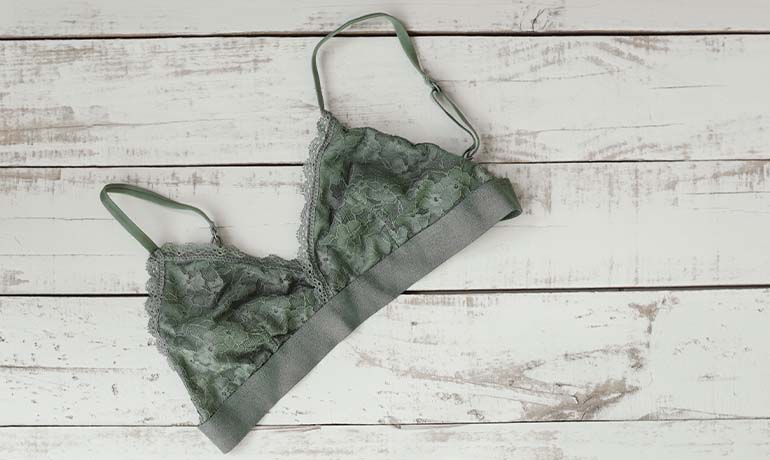 Underwire and padding and hooks, oh my. Bras can do many wonderful things for our bodies, from providing some much-needed support to magically creating Sophia Vergara levels of cleavage. The problem? They can be so uncomfortable. We all know the feeling of coming home from a long day of work with nothing in mind but getting that bra off of our bodies. Thankfully, in recent years, a new, more comfortable type of undergarment has been rising in popularity: the bralette. But what is a bralette exactly?
We'll be sharing everything you need to know about this trendy undergarment, including who a bralette is for and the low-down on bralettes vs. bras. Read on to learn more!
What Is A Bralette?
You can think of the bralette as the pretty and carefree younger sister of the traditional underwire bra. Bralettes typically have little to no padding, are wireless, and are crafted from lace, Spandex, or any number of thin, lightweight materials. This creates a more natural appearance under clothes and, of course, offers much more comfort than an underwire bra.
While you may think of bralettes as a more contemporary style, they've actually been around for quite some time. Some of the first modern bras ever worn were free of padding and underwire, much closer to the style of a bralette than a proper traditional bra. We can also find wireless bras in the form of sports bras and even training bras. But these days, most bralettes have gone from "blah" to brilliant with unique straps, embroidery, intricate lace, cutouts, bold colors, and even bedazzled details. From there, bralettes can be a crop top style, sports bra, a completely sheer triangle bralette, or anything in between. No matter what your style is, there's a bralette out there for everyone.
What Is The Purpose Of A Bralette?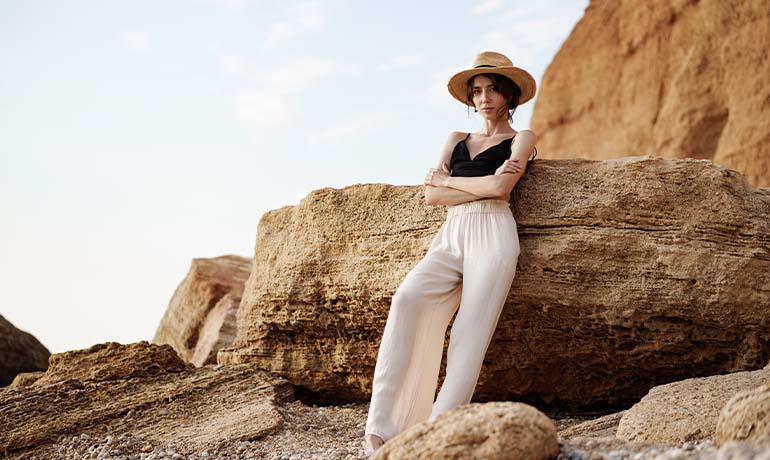 Truly, there are two purposes for the bralette: style and comfort. As previously mentioned, bralettes are available in even more varieties than regular bras. This is an undergarment that is often designed to be seen. But comfort is usually an even more popular reason for selecting a bralette. The lack of underwire and padding make for a much more comfortable and relaxed fit, while more breathable materials will reduce perspiration during those oppressive summers.
Bras vs. Bralettes: Which Style Is Better For Your Boobs
When it comes down to it, you're probably wondering which is better: bras or bralettes? Just as it is with all things related to fashion, it depends on your own wardrobe and lifestyle needs. These are two very different styles, so you'll want to do a bit of research before you decide to spring for that bralette.
If you're looking for maximum support or cleavage-enhancing padding, you'll want to go with the classic push-up bra. The underwire, padding, and molded cups present here will fill out your upper half and could be an even more comfortable option for that reason, especially if you have a larger cup size. The full coverage and high level of support are hard to beat.
On the other end, if you're looking for comfort and a stylish quality in your undergarments, bralettes are the winner. The lack of underwire means you'll never have to worry about incessant poking from the metal and the soft shape provides breathability and a more natural look. That's not to mention the much wider range of styles and embellishments available with this bra style. While padded bras often come in a variety of colors as well, the unique lace details, different necklines, and strappy silhouette of bralettes allow you to inject more personality into your look.
It's also worth noting that bralettes are an excellent alternative to nursing bras. The soft cups and wire-free style offer just enough light support and there are plenty of more simple bralette styles for those who aren't interested in loud color and extra embellishment. If you have large breasts and are worried about support, a racerback bralette will (literally!) take some of the weight off your shoulders.
How To Wear A Bralette
Forget the age-old notion that visible bra straps are tacky when it comes to this style — there are many answers to how to wear bralettes. Bralettes work well for just about every style, from sweet and feminine to edgy athleisure to simple loungewear.
Many women like to pair a high-neck or lace bralette with a tank top or t-shirt or peeking out from under the collar of an off-shoulder sweater. They instantly add some interesting extra detail and a touch of modest sexiness to your look. Another popular look, especially in the fashionable city of Paris, is to wear a black bralette under a crisp white shirt for the perfect combination of sexy and elegant. While you may have been taught that visible undergarments are a fashion faux pas, chic Parisienne women are all about breaking fashion rules. Aren't rules meant to be broken every now and then?
If you're looking for something bedroom-ready, you can go a step further with a completely sheer style or peek-a-boo cut bralette to turn up the temperature even further.
The Best Bralettes For You
We've gone over many different styles of bralettes, but you may be wondering now which styles to go for. Thankfully, there are countless bralettes out there and we have several gorgeous, stylish picks on our very own website!
— The Playing Koi Bralette is a v-neck plunge bralette with strappy details that will add a bit of edge to a low-cut top or sweater.
— For women with larger breasts who still want to enjoy the comfort of bralettes, the Coquette Cutout Bralette offers a sporty style and full coverage with plenty of stretchiness.
— Our Stretch Lace & Microfiber Bra is an ideal combination of sexiness and comfort. The microfiber band is ultra-comfortable while the beautiful sheer red lace will provide just the right amount of color when peeking out from underneath a tee or sweater.
The Bottom Line
Bralettes offer the perfect middle ground between comfort and style. Although their popularity is still relatively recent, it seems that they're here to stay for the time being. We hope this guide provided the down-low on what a bralette is, whether you should go for a bra or a bralette, and how to wear a bralette.
Frequently Asked Question
Are bralettes healthier than bras?
Generally, bralettes are considered "healthier" than bras. They're less restrictive, allowing for improved blood flow, and can provide less shoulder strain for women with larger bra sizes.
What is the difference between a bralette and a bandeau?
While a bralette has straps, a bandeau is simply a band of stretchy fabric that wraps around the chest like a more narrow tube top. Consider a bandeau, the bralette version of the classic strapless bra.
Is it possible for a bralette to be seen through clothing?
Since bralettes are commonly available in bright colors and patterns, they can possibly be seen through clothing, especially white and light-colored tops. Some people like them for this reason, as they can add a hint of color to your look. However, there are plenty of neutral-colored bralettes out there if visible lingerie isn't your style.
What materials are bralettes made of?
Bralettes are typically made using soft, thin, flexible fabrics; think nylon, Spandex, cotton, and silk. Most bralettes include some sort of lace or mesh as well.
How much does a bralette cost?
As with most lingerie and undergarments, prices vary greatly from brand to brand. Our high-quality bralettes at Foxy Lingerie are mostly under $25.