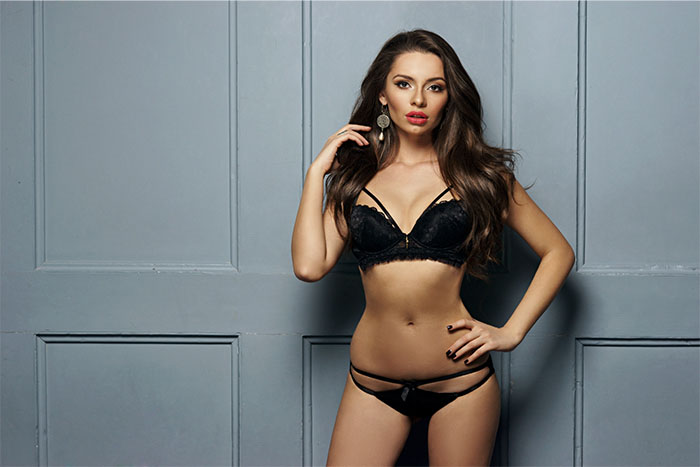 I'll be the first one to admit that bras can be, well, overwhelming. There are so many options, especially when you get down to the "nitty-gritty." For example, most women know the difference between a "regular" bra with coverage and a more relaxed "sports bra." But when you start getting further into the realm of bra styles, you run across options like the demi bra.
If you're on the hunt for a new bra and scratched your head at the term "demi bra," don't worry; you're not alone. There are so many different types of bras these days it can be hard to keep up.
Well, ladies, if you're looking for a bra that offers a good amount of coverage and lift without being full-coverage, the demi bra might be precisely what you've been looking for.
Let's check out the deets on this breast-enhancing bra.
What Is A Demi Bra?
To understand what a "demi bra" is, you need to look at the first word: demi. Demi means half, which precisely describes the cups of a demi bra.
Demi bras are designed with a half-cup, so they don't cover the breast entirely. This is good news for those sexy dresses with low necklines, when you want to wear a bra for some lift but don't want to wear a strapless bra.
These bras are commonly referred to as a "shelf bra" thanks to the tilting and lifting construction. This subtle tilt pushes breasts up and toward the middle, creating jaw-dropping and tantalizing cleavage in everything from a low-cut top to maxi dresses.
What's The Difference Between A Demi Bra And A Full Coverage Bra?
The most significant difference between a demi bra and a full-coverage bra is that a full-coverage bra is constructed with cups that cover the entire breast. They are known for providing extra support and comfort for breast tissue, especially for women with a full figure and larger breasts that may not necessarily need any help in the "enhancement" area. That said, think of a full-coverage bra as a full cup bra and a demi-cup bra as a half-cup bra.
What Are The Benefits Of A Demi Bra?
Many benefits come from wearing a demi bra fit. As long as you have the right bra size, cup size, and bra fit, you can enjoy these great benefits:
It can be worn with anything. V-necks, low necklines, and other revealing garments that show your boobs require a demi bra that won't play peek-a-boo out of your outfit.
Comfortable. Demi bras tend to have a thinner underwire or come unlined; offering added comfort you wouldn't find from other bras. The comfort level makes the demi bra an excellent option for everyday wear.
Offer breast enhancement. Although they aren't as supportive as a full-coverage bra, they offer more support than a t-shirt bra or sports bra. They're also conveniently molded to give the breasts an uplift and push them together, creating an enticing physique.
Very sexy. Demi bras are commonly used for lingerie because they show just the right amount of cleavage on top. Paired with a subtle uplift, an underwire bra like the demi is an excellent choice for bedroom antics.
Determining Which Demi Bra Offers The Most Support
Some women — especially those with larger busts — may stray away from the demi bra, thinking they simply won't offer enough support. But that couldn't be further from the truth.
While a larger-busted woman might not find comfort or support from an unlined demi bra or backless option, it doesn't mean they're entirely out of luck.
The first thing to do is opt for a larger cup size. Since a demi bra is notorious for the half-cup design, going up a size can ensure you have enough coverage with less cleavage popping out.
Secondly, find a demi bra with adjustable straps. Better yet, find a racerback style that's adjustable. This will take the weight off of your upper back, provide more structure and support, and of course, ensure a comfortable fit that keeps your girls in place.
When Should You Wear A Demi Bra?
All styles of bras have their specific "purpose." For example, a bralette is perfect for lounging around the house or wearing outside under a jacket or cardigan. But what about the demi?
Demi bras can be worn as an everyday bra, regardless of what you're wearing. However, they are highly recommended when wearing a low neckline or V-neck garment. The half-cup construction ensures that your bra won't show, even with the lowest cuts.
The Bottom Line
Demi bras are perfect for lower-cut tops and dresses, although they can be used as an everyday bra or lingerie. They are designed with a uniquely tilted half-cup that pushes the breasts up and together, creating voluptuous breasts that look amazing — especially when paired with more risque apparel.
Frequently Asked Questions
Are demi bras padded?
A demi bra comes in padded and unpadded. So, if you're looking for more of a "push-up bra" look, you will opt for the padded demi. If you want your cleavage to speak for itself, unpadded will do the trick.
What is the difference between a demi and a balconette bra?
The balcony bra (or balconette-style bra) and demi bra are similar. They offer less coverage than full-coverage bras, but they less coverage than full-coverage bras, but provide a stunning uplift and some support. The main difference is the neckline. Demi bras have a squared-off construction, while balcony bras have a sweetheart style.
Who should wear demi bras?
Anyone can enjoy a demi bra, regardless of their bra size or cup size. If you're struggling to get your girls to "fit" in the demi bra, consider going a size up or opting for an unpadded option.
Are demi bras meant for daily use?
Demi bras can definitely be worn every day. They're comfortable and have a good amount of support, so they can quickly become your go-to undergarment for everyday wear.