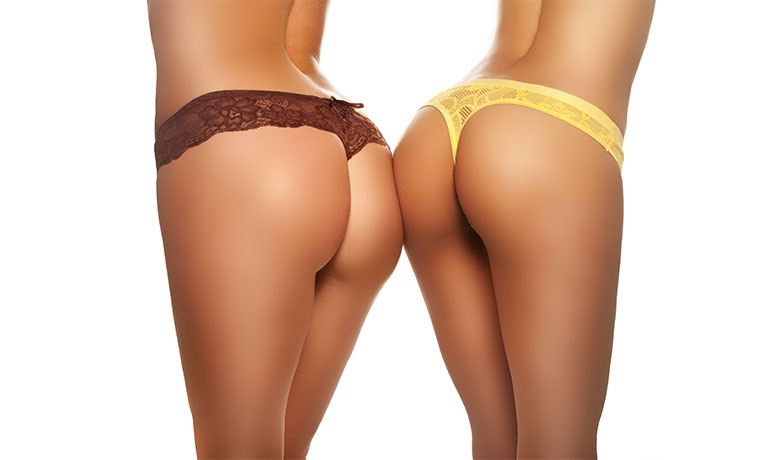 Let's face it — in this day and age, when you hear the term "thong," all of the different styles get clumped together. Most people will refer to "thongs" as "g-strings" and vice versa. But are these two underwear styles actually the same thing? Or do they have their distinctive traits?
The truth is that a g-string is a standalone type of thong. They are two entirely different things, although similarly structured. Knowing the specific differences can help you find the style that's right for you (and will help you tell your partner exactly what you want for Valentine's Day — wink, wink).
Let's learn about the difference between thongs and g-strings.
What Is A G-String?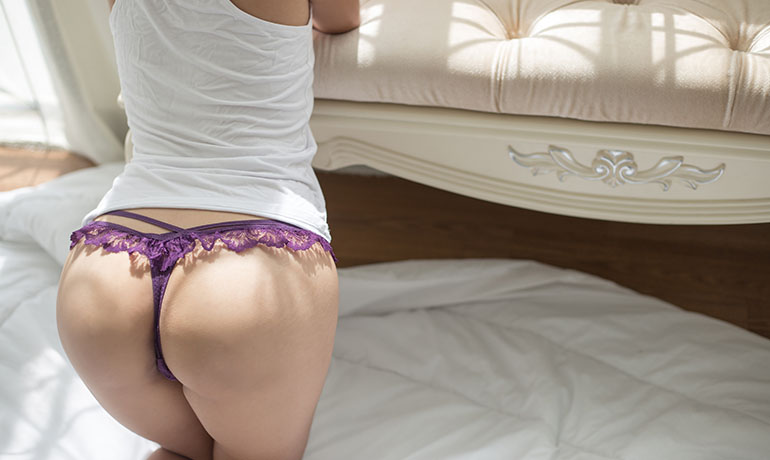 G-strings are essentially another type of undergarments typically worn beneath clothes. However, they are designed to have more sex appeal and be far more tantalizing in nature. That's all thanks to the stringy construction. On the front of the g-string, a small piece of fabric secures and hides the genitals. In the back, a small strip of fabric passes between the buttocks — which is so tiny, it is often referred to as "floss." The connecting waistband is also impressively thin.
What Are The Key Differences Between Thongs & G-Strings?
The most significant difference between a thong and a g-string is that it is far broader and thicker than its g-string counterpart. The fabric — especially around the waist and passed through the buttocks — is noticeably bulkier than the thin fabric found on g-strings.
Due to the more prevalent construction, the thong panty is known for being far stronger than a g-string. This means that the thong will be able to handle more wear and tear than g-string panties.
Another key difference is the purpose behind the g-string and thong. A thong is a type of panty that is more often worn during activities, such as working out or going to the office. That's because they provide more protection in every aspect than the g-string. They are also more comfortable over time than the "stringy delight" that is better suited for romps in the bedroom.
To put it simply, think of thongs as your everyday underwear and g-strings as your go-to lingerie.
What Is The Purpose Of Thongs & G-Strings?
Like all other types of underwear, hipster, cheeky, or the likes, the ultimate goal is to protect a woman. It's an undergarment that will secure and hide away her goodies and give them a safe spot underneath clothes.
However, the goal behind the thong and g-string design is to ensure ultimate comfort and enhanced appearance. This is done in a few different ways.
Less fabric = more comfort. Some women don't like to feel "bulky," especially underneath their clothes. Some types of underwear can feel thick or annoying. Thongs and g-strings have less fabric and are therefore more comfortable — as long as you're wearing the right fit and material such as microfiber.
No more panty lines. One of the big reasons why almost every woman owns a g-string or thong is simply because they can wear all their fave styles without panties playing peek-a-boo. Think about it — you wouldn't wear bodysuits or leggings with anything else. Otherwise, you'd have visible panty lines. No, thanks!
It shows off curves. A g-string and thong just fit right. They hug a woman's curves in all the right places. That's why plenty of gals opt for swimwear with a thong bikini bottom rather than "traditional" swimwear. Rock what you got, queen!
Sex factor. I'd be lying if I said there wasn't a major sex appeal with thongs and g-strings. Basically, these underwear styles are designed to show off way more skin — especially the g-string. Take your bedroom antics to the next level with Victoria's Secret lace thong, and you won't forget it.
Types Of Thongs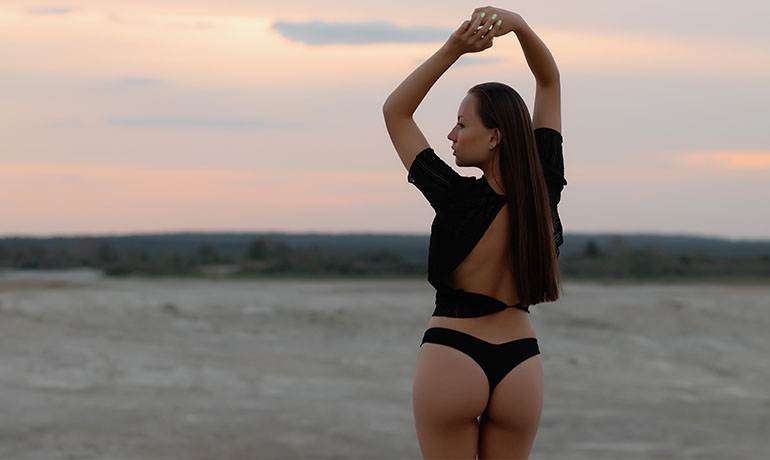 The best part about Thong Panties & Underwear is a seemingly endless supply of options. It's easy to find exactly what you're looking for. Here are some of the most popular types.
— G-String
This itty-bitty number has a tiny string that wraps around the waist and a just as miniature fabric that goes up the buttocks.
— C-String
Who said you have to have a waistband? The c-string says sayonara to waistbands. Instead, the tiny piece of fabric is held in place with a wire.
— V-String
The v-string is precisely how it sounds: there is a small patch of fabric in the shape of a "v" in the back, giving the wearer a bit more protection on the bum.
Cheeky
Lastly, the cheeky thong is known for being the most full-coverage option. It has plenty of fabric on the front and back yet is still risque enough to intrigue.
Types Of G-Strings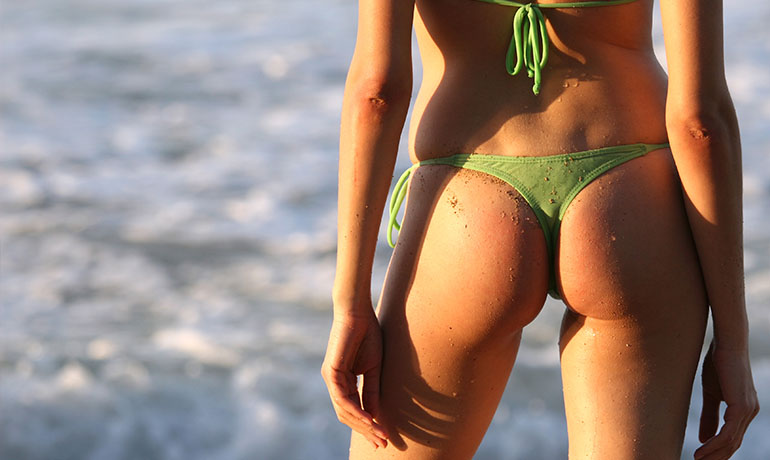 G-String Panties are very popular, and there's plenty of this underwear to choose from, too. If you're considering wearing this type of panty, you'll want to know the different options available.
— Cotton Thongs
If you're looking for impressive and high-quality comfort, go with classic cotton. This is especially true whether you're planning to lounge or go out and be bold with a whale tail.
— Spandex
Want something that's going to cradle your every curve? Go for spandex — no, they're not just reserved for strippers. But who wouldn't want to look like a red hot stripper anyway?
— Lace
A lace thong is always going to be one of the hottest pieces of lingerie you adorn, especially in g-string style.
— Low-rise
The cool, calm, and collected girl that wants to show off 90s vibes will love the low-rise option. The only question is, will you pair it with some low-rise jeans? We're hoping, YES.
— Swimsuit
If you want to be bold next summer and show off that fab rear-end, don't hesitate to jump on the g-string swimsuit trend.
The Bottom Line
While the g-string is part of the thong club, it varies significantly from the classic "thong." The g-string is a skinnier, smaller number that always pleases in the bedroom – although it can be worn out and about, too, even to the beach. If you want a thong that's sleek, sexy, and barely there, consider the infamous g-string style.
Frequently Asked Questions
Who should wear thongs?
In a nutshell, everyone. And if you've never worn one, give a thong a try. Thongs are great for when you're wearing something body-hugging and don't want to show your panty lines. They're also excellent for surprising your partner with something sexy in the bedroom (or the kitchen, living room, garage — we don't judge, here).
Which is more comfortable; a thong or g-string?
Most women will say that the thong tends to be more comfortable than the g-string. This is simply because there is more material to work with. The "string" going up the butt crack isn't always pleasing, especially after extended periods.
Does a thong make your bum look bigger?
Almost everyone is trying to get a big and juicy bum in this day and age. Will a thong help? The simple answer is yes. It might be just an illusion, but we don't really care. The higher sides give your butt a little bit of a boost, and we love every minute of it.
How much does a g-string cover?
To put it simply, not much. A g-string is very "stringy," as the name suggests. The waistband and back fabric are tiny and string-like. The only coverage is a small triangle covering the genitals in the front.