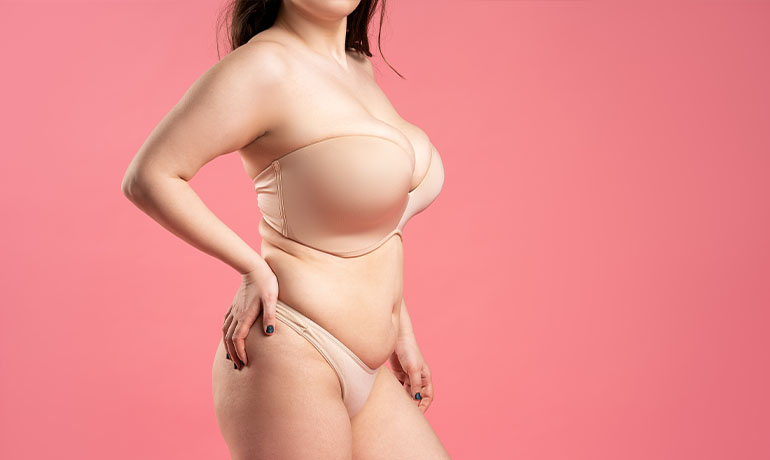 Wearing a bra that's comfortable yet supportive is the goal for every woman. But with so many different types of bra styles on the market, it can be hard to determine which one is right for you.
For many women, the balconette — or balcony bra — is the ultimate go-to. These bras have an interesting style and shape that offers more support while simultaneously being less full-coverage.
How is this possible? No, it's not magic — although plenty of balcony bra fanatics might say it is.
If you're curious about the balconette bra style, you've come to the right place. Keep reading to learn what a balconette bra is and why it might be your new favorite bra style of all time.
What Is A Balconette/Balcony Bra?
A balcony bra is designed to be situated like, well, a balcony. It's designed to elevate the breasts with two supportive wide-set straps on the side, rather than in the center like a typical demi-cup bra.
The balconette provides less coverage than a full-coverage bra style, although that doesn't hinder the support. In fact, the balconette style bra is notably one of the most popular options for those with larger boobs — up to DDD and beyond. That's all thanks to the cup style, which is far rounder than other cup styles on the market. Just ask Marilyn Monroe — the voluptuous pin-up diva that made the balcony bra a sensation in the 1950s after its original debut in the 1930s.
The balcony bra provides the perfect fit for most women regardless of breast size. That's because the neckline lays straight across the chest, allowing for low-cut tops and dresses without showing undergarments. It also emphasizes your natural cleavage without overly lifting like a push-up bra style.
What Are The Benefits Of A Balconette Bra?
Not sure if the balconette bra is right for you? Let's take a look at some of the top benefits of wearing a balcony bra over other types of bras, such as a full cup bra or a sports bra.
— Exceptional comfort. One of the most significant benefits of choosing a balcony style is that they are notably one of the most comfortable bra types. The wide shoulder straps and overall bra fit works for various body shapes, even babes that use our plus-size bras or those with plenty of breast tissue.
— Exceptional support. You could easily refer to a balcony bra as a support bra. Why? Because the cups act as the perfect slings to keep your breasts supported and in place, regardless of bra size. The straps are also impressive and won't slip and slide, even though they might look like they will.
— Versatile. The balconette can easily be worn as sexy lingerie (think: lace balconette bra) or your t-shirt bra for everyday wear. Due to the uniquely designed neckline, it has impressive functionality to work with all of your favorite outfits — even that everyday dress you bought off Amazon of the different styles of low-cut tops you can't wait to show off.
— Better appearance. The balcony bra is designed to show off your natural cleavage in an all-new way. Plenty of women state that their breasts appeared better than wearing an underwire, bralette, or plunge bra. As long as you measure your cup size correctly, you can enjoy a better overall appearance in the breast department.— Lots of options. You can find the balconette style in several styles, including a longline, panache, or nursing bra. There is a style for everyone.
When Should You Wear A Balconette Bra?
So you're thinking about choosing this unique half-cup bra style. Good for you! But how do you wear it? Here are some of the best ways to rock your balcony bra.
— Wide necklines. If you're wearing a garment with a wide neckline, it's best to opt for a balconette bra so the straps don't show.
— Low-cut necklines. The same is true for low-cut necklines. Keep your undergarment a secret by going with a balconette bra.
— Formal or strapless clothing. Ditch your current strapless bra and go for a super supportive strapless balcony bra instead.
— Girl's night out/date night. Want to make the "girls" look great for a night out? Balconette bra to the rescue.— Swimming. Yup! Some swimwear designs feature a balconette style so that you look great, whether you're strutting down the beach or cooling off in the pool.
Types Of Balconette Bras
Like I said in the "benefits" section, one of the best parts of balconette bras is that there are so many style options to suit your needs. Here are some of the top types of balcony bras you'll love to own:
— Push-up. The push-up balcony bra works wonders for those who want even more support and lift.
— Padded. Some women (like myself) like a little extra padding for comfort and security. Sound like you? Then consider a padded balcony.
— Full-coverage. The streamlined neckline isn't for everyone. If you want more coverage, you can get it.
— Lace. A lace balcony bra is a perfect choice for those looking to entice their partner in the bedroom.— Molded. A molded balcony bra is unique because it has soft cups that essentially mold to your breast, giving you a great look that's perfect for date night.
The Bottom Line
A balcony bra is perfect for all breast sizes and body types. It provides plenty of comfort and support without any "extras" like padding or underwire necessary. A lowered neckline opens the opportunity to wear more styles like low-cut and wide-strap without fear of undergarments playing peek-a-boo.
Frequently Asked Questions
Who should wear balconette bras?
In all honesty, the balconette bra is for everyone. However, it tends to work even better for larger-breasted women who will enjoy the structure of a rounded cup and wider-set straps. This allows for more support and comfort for bigger breasts and places less stress on the back and shoulders. However, don't think you can't wear a balcony if you have smaller breasts. You can also enjoy the support, comfort, and appeal of a balcony style.
What is the difference between a balconette bra and a regular bra?
The structure is the most significant difference between a balconette bra and a regular bra. Balconette bras are known for having straps positioned on the sides of the cups rather than toward the center. The cup is also rounded and shorter than a regular bra, which means the neckline is straight across the chest.
What is different about a balconette bra?
The balconette bra is different because it is rounded and has wider-set straps. Due to the unique construction of the balcony bra, it allows for more versatile clothing options without the undergarment showing. For example, a low-cut dress would work well with a balcony bra.
Are balconette bras supportive?
Yes, balconette bras are impressively supportive — even though it might not appear that way. Although the neckline is a lot lower than regular bras, the support is still there thanks to the rounded cups and location of the straps. Some women claim that the balcony style is more supportive than other bra types. If you need added support, you can always find a balcony bra with padding, push-up, underwire, and more.
How do you care for a balconette bra?
Caring for a balconette bra is much like caring for any other type of bra you own. Ensure that it is appropriately stored — i.e., not folded or shoved into the drawer. Allow the cups to remain uniform. You can also hang it in your closet. When washing, it's best to hand wash in the sink with warm water and a pinch of soap. Scrub gently and wring out excess water carefully, then hang to dry.
How much does a balconette bra cover?
The balconette bra is known as a "half cup bra" because it truly only covers a part of the breast. A balconette bra will typically cover the nipples and lower part of the breast, exposing the top. This is why balcony bras are known for enhancing natural cleavage and creating a voluptuous look. Don't worry, though — although balcony bras don't typically offer full coverage (unless you buy them that way), your breasts won't pop out. Make sure you're buying the right size, and your balcony bra will work like a charm.