Some of the most popular items we sell on Foxy Lingerie are open cup bras and open cup shelf bras that we sell from designers like Shirley of Hollywood and Dreamgirl.  Some customers have questions regarding fit, while others have questions regarding materials and style.  One question that's always on a customers mind though is, "Is an Open Cup Bra Comfortable"?  That question flows right into the next, which is, "Is an Open Cup Bra Right for Me?"  In this post, we'll discuss both since they're fairly related.
Is an Open Cup Bra Comfortable?
We've found that that typically depends on your body type.  A lot of these open cup bra styles are made for a range of sizes.  Bust size is fairly standard, but the cup size can be a range from A-B, B-C, D-E, and any combination in between.  The cuts that the designer uses can also play a part in comfort.  What we always tell customers when the inquire though is two things.  First, these aren't normal, every day bras, so the comfort level might not be exactly what you're used to for your every day bra.  Second, think about how long you're going to wear it. We can imagine that it probably won't be very long.  🙂
Is an Open Cup Bra Right for Me?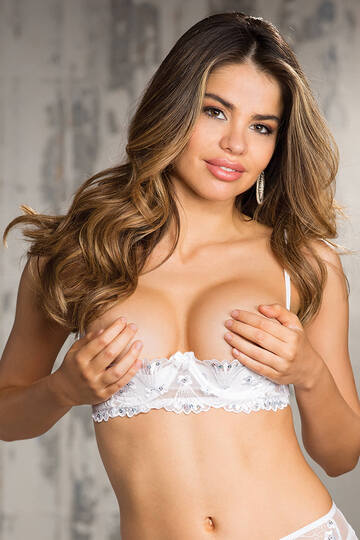 Again, we think it depends on what you're looking for in your overall lingerie purchase.  If you're looking for something silky and soft, go with a nice chemise or babydoll.  If you want something that's more risque, then go for an open cup bra – even better, pair one with a nice neglige or sexy lingerie style.  You can pair all sorts of styles together to make it right for you.
Choosing a Cupless Lingerie Style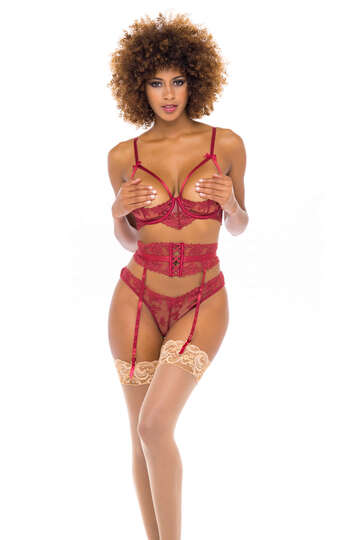 Now that we've answered a couple basic questions about yourself and the possibility of wearing a cupless bra, you want to find the right style that's right for you. First, check the sizes. Also don't forget to look for a style that comes with a matching panty or even garter belt. With these matching open cup lingerie sets, you'll get more bang for your hard earned dollar.
The Bottom Line
So, all of that said – keep in mind your sizing and tastes when you're shopping for lingerie online.  And don't forget if you're looking for the best selection of open cup bras, look no further than your friends here at Foxy Lingerie.  We're always here to help you have the best online lingerie shopping experience possible!