September is here which means fall is right around the corner – and so is Halloween 2020. With the global COVID-19 pandemic still in full swing, we're almost sure to see a much different looking Halloween this year; at least in the United States. But, that doesn't mean we don't have some fantastic new sexy Halloween costume styles for you guys to check out this year. While Halloween won't be like it was last year, we're sure folks will find a way to still have a little fun with this yearly tradition. No matter what, we still love to dress up and turn ourselves into characters we can't be each and every day.
So, with that, we thought we'd take some time and pick out what we think might be some of the top styles we'll see on Instagram for Halloween 2020. Its still early, so our predictions might be a little off, but let's have some fun with this anyway!
Ride 'Em High Sexy Cowgirl Costume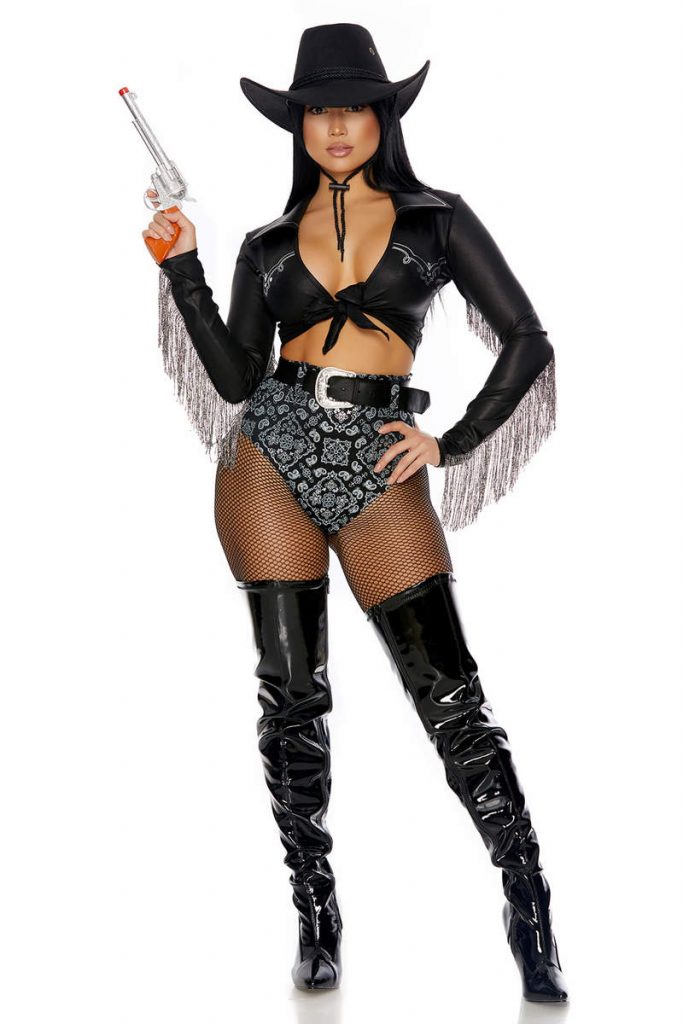 Well, the Wild West isn't what it once was, but there's something I think we can all agree on. A sexy cowgirl is a must have at every Halloween get together. If dressing up like an old western gal – albeit with a sexy twist – is your thing, then our Ride 'Em High Sexy Cowgirl Costume from Forplay is just for you. This three-piece costume set comes with black and white crop top with tie front, metallic fring detail, and matching high-waisted paisley print panty and waist belt. Add in a pair of fishnet thigh highs and boots and you'll have no problem keeping those rowdy cowboys in line!
Score Sexy Cheerleader Costume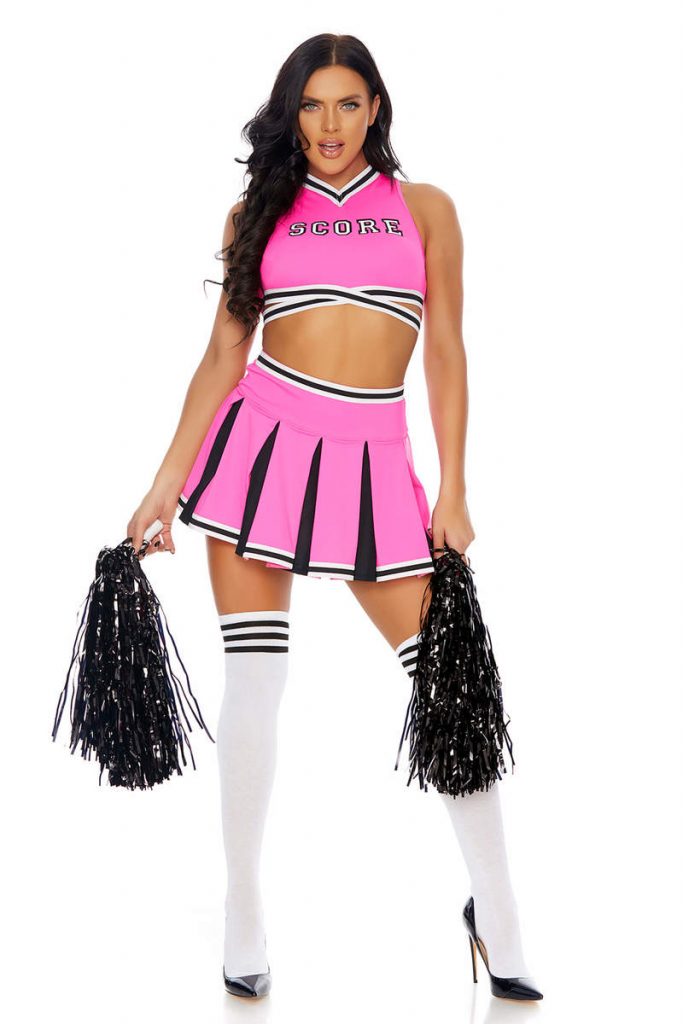 This one is a Halloween classic. Its an easy costume to wear, gets people excited, and can honestly be worn for events outside of Halloween. That makes our Score Sexy Cheerleader Costume a possible go to for so many ladies this season. This two-piece costume set comes with matching pink and black crop top and skirt plus the pom-poms shown. Just add in a pair of our athletic white with black stripe stockings and you'll keep the crowd going wild all night!
Rags To Royal Sexy Character Costume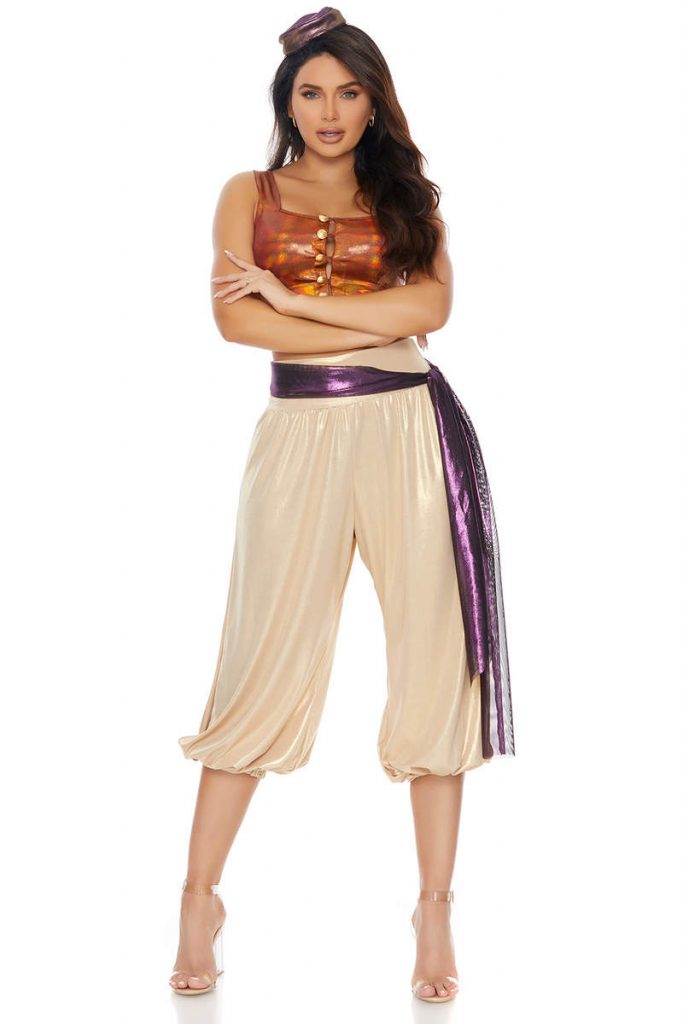 We're not going to lie, but each and every year there are enough new movie themed costumes to make a girl's head spin. One of our favorites – and we think yours too – will be our Rags to Royal Sexy Character Costume. This Disney movie themed costume will let you pretend you're the male hero Alladin, but with a sexy twist! Featuring four-pieces, this style features a metallic iridescent loop button crop top with a pair of below-the-knee length pants. Comes complete with matching waist sash and matching fez hat. If this costume is for you, you should probably get one of your besties to dress up as…
Lost Princess Sexy Movie Character Costume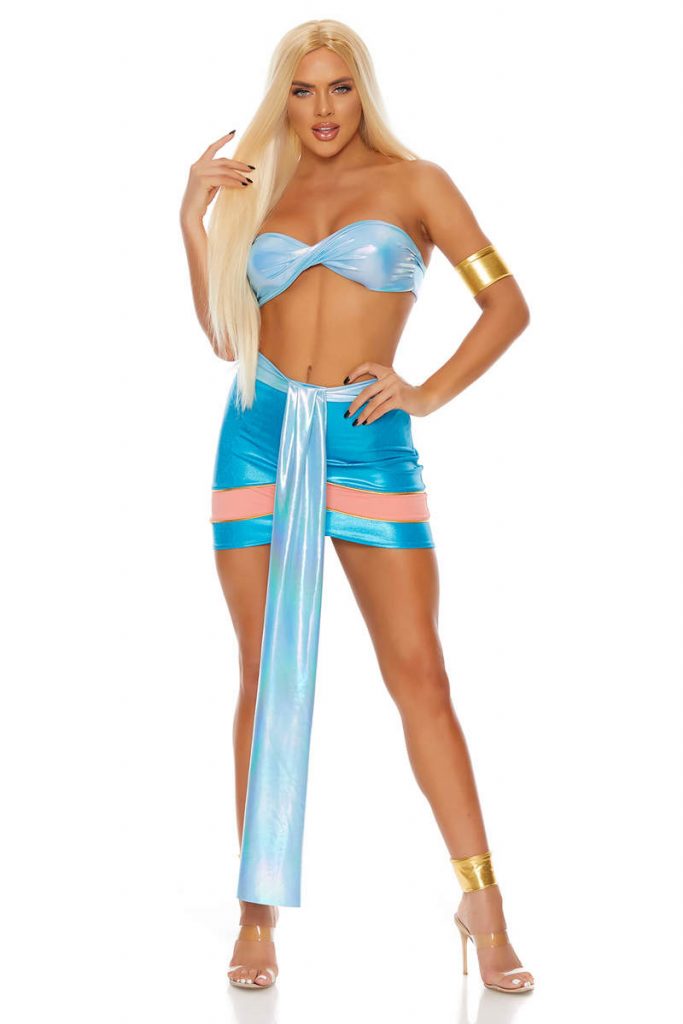 This costume is simply a stunner. With its matching twisted bandeau top and mini-skirt, you'll have everyone's heads turning. Even if you're doing a virtual Halloween party this year! Other features include a sexy drape front, gold armbands and leg accessories.
Sweet Dreams Sexy Princess Costume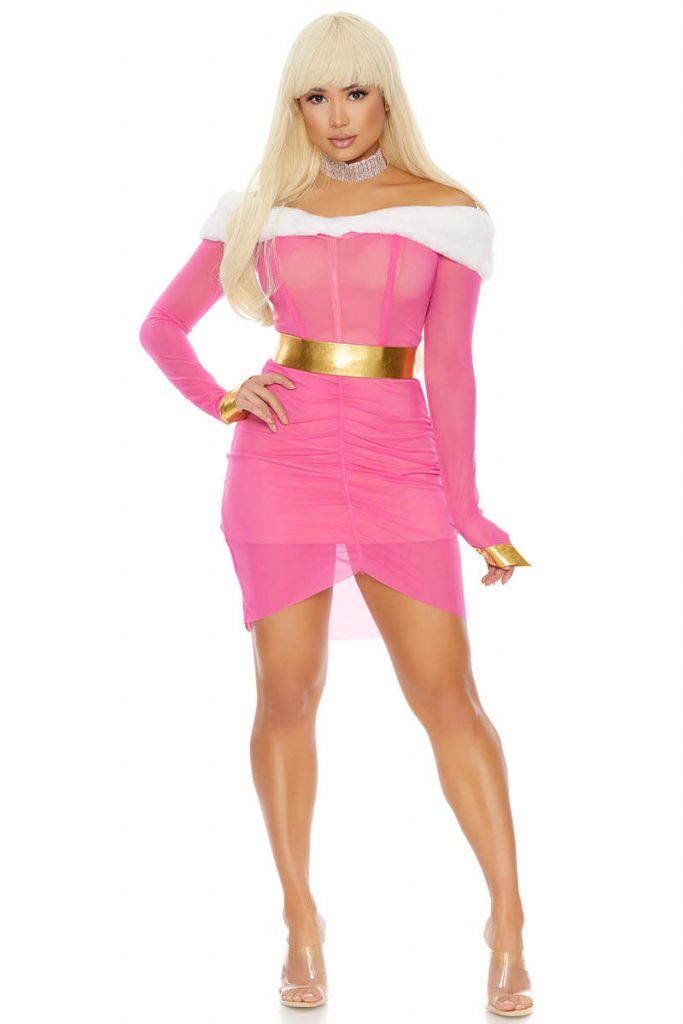 Last, but certainly not least in our lineup, is our Sweet Dreams Sexy Princess Costume. This class looking princess dress will give you the ability to get everyone to just eat out of your hand this Halloween. With its off the shoulder look, long sleeves, and mini-dress cut, you'll be the talk of the town. Even if Halloween is more of a remote gathering this year, you'll be the talk of the night this year!
So, what do you think? Obviously this is just a quick glimpse into the sexy costumes that we think will be popular this year for Halloween and grace the pages of Instagram. If you post a pic wearing one, tag us on Instagram with #foxylingerie to give us a shout out. Did we miss a style that should have been on this list? Then drop us a line at service <at> foxylingerie.com to tell us what you think. Hey, maybe we'll update our list! Anyway, until next time ladies – stay sexy and safe out there!