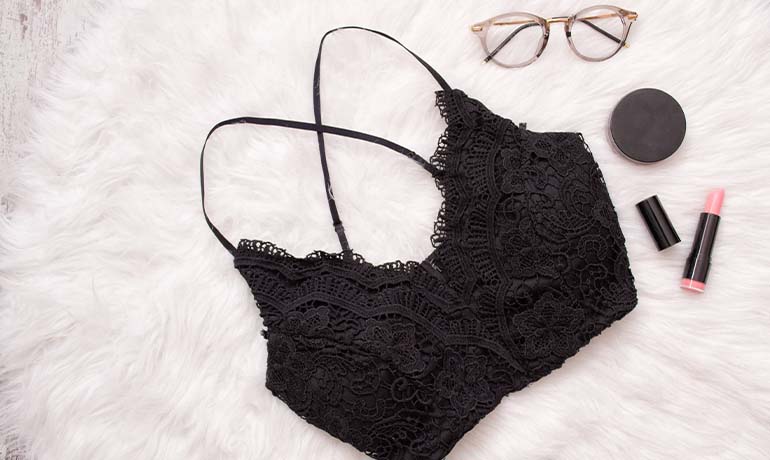 Lightweight, unstructured, and undeniably comfortable, the bralette takes center stage for women seeking a comfy bra that won't pester with wires and padding. But with so many bralette options on the market, it can be challenging to know which one's right for you. That's why we have put together this comprehensive guide of the absolute best bralettes on the market. Whether you're a lacey queen or need something with impeccable stretching abilities, we've got you covered.
Let's dive right into our must-see top ten best bralettes.
#1. Editor's Pick: Down The Garden Path Bralette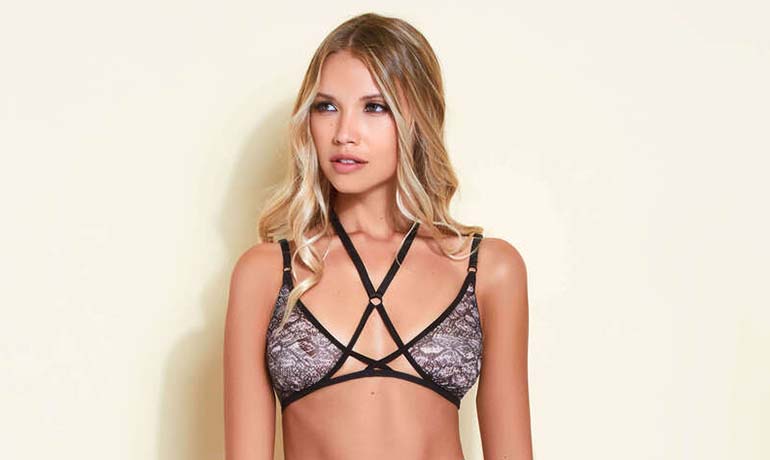 With a busy garden design that's nothing short of captivating, the Down The Garden Path Bralette is a clear top pick. Not only is the design intricate and unique, but it's entangled with an attractive strappy design that takes your bralette to the next level. You're surely love the blend of 90% Polyester and 10% Spandex.
The combo provides the right amount of stretch and comfort to suit any woman. Choose between the classic black and white mesh design or enjoy flourishing colors by going the purple route. Either way, you're destined to fall in love with this elegant bralette.
#2. Hook Up Bralette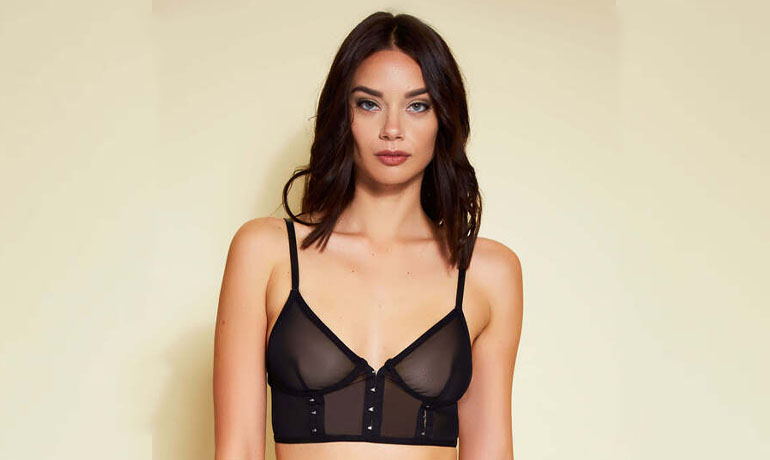 Are you a diva that likes to live life on the edge? Then you will love the collection of compelling hooks that align the Hook Up Bralette. The hooks serve to intrigue while also being fully functional, providing the best fit for every woman. You will love the wire-free stretch mesh material, too, as it shows off just enough — without giving away all the "details." Designed as a longline style, the Hook Up Bralette is perfect for women who want a little extra material to hold everything in place.
#3. Hook Up Strappy Bralette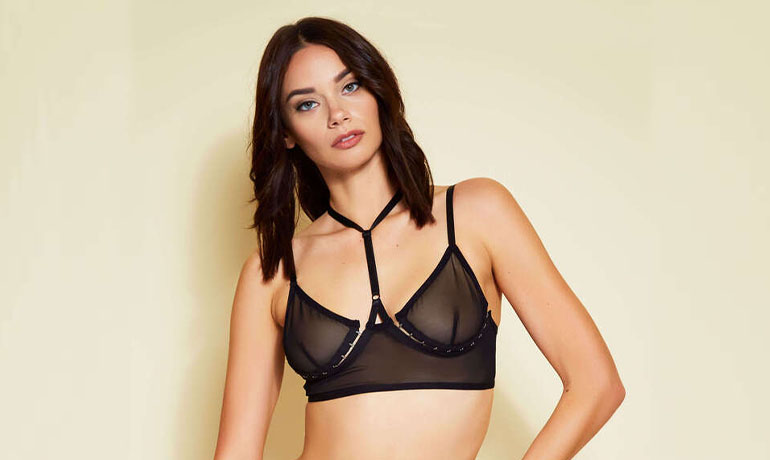 Women looking to turn up the heat in the bedroom will adore the unique and sensuous design of the Hook Up Strappy Bralette. This alluring number comes with two fully removable cups, showing off your boobs in an all-new way. Complete with a harness strap, this strappy bralette is exactly what you need to take your hanky panky to the next level. As a bonus, the stretch mesh material is wonderfully comfortable and form-fitting, making you look fab while still being a wire-free bra selection.
#4. Rosemarie Lingerie Set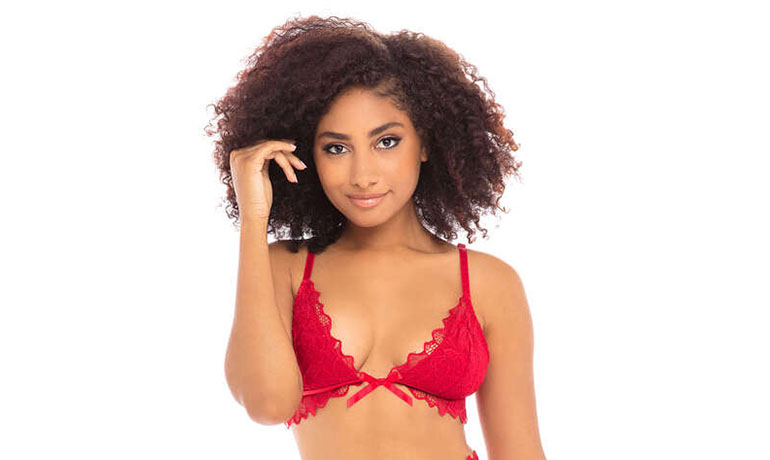 Are you feeling flirty? Want to entice your partner with a charming lingerie set of pure elegance and sophistication? Then the Rosemarie Lingerie Set is the best choice. This three-piece set comes with everything you need to reach the peak of elegance and sexuality. The adorable ruffled number comes with a triangle bralette, garter belt, and matching panty, creating a combo that's sure to impress in the bedroom.
The set comes in a beaming, spicy red color tone, instantly stimulating and attracting the attention of your lover. Needless to say, you can't go wrong with this three-piece stunner.
#5. Camille Mesh Bralette & Panty Set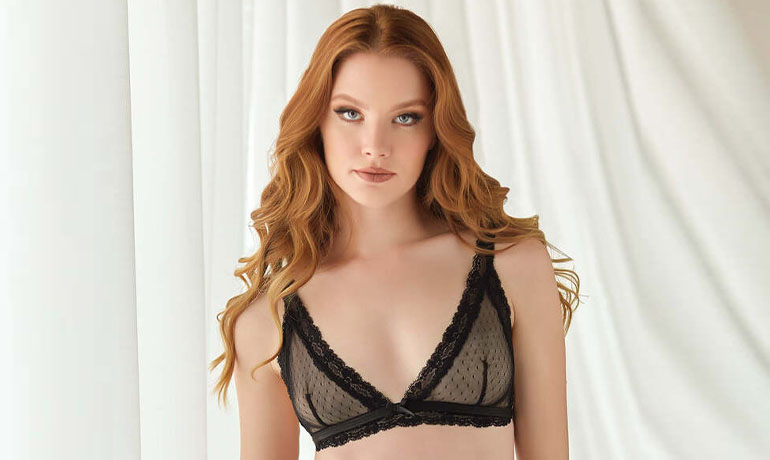 The Camille Mesh Bralette & Panty Set is a timeless set that will never disappoint. With gorgeous, classic patchwork on each piece, you can't go wrong. The bralette comes complete with fully adjustable straps on the shoulder and back, allowing women of all bust sizes, even larger busts, to enjoy this look. Down below, your partner won't have to work too hard to "get to the goods" thanks to an enticing crotchless pantry design complete with a lace-up back — so sexy, they will love it more than commando.
If you're looking for a bralette and panty set that you can wear time and time again, consider this instant classic. Opt for seductive red, enticing black, or add some playfulness with a deep blue shade.
#6. Caterina Bralette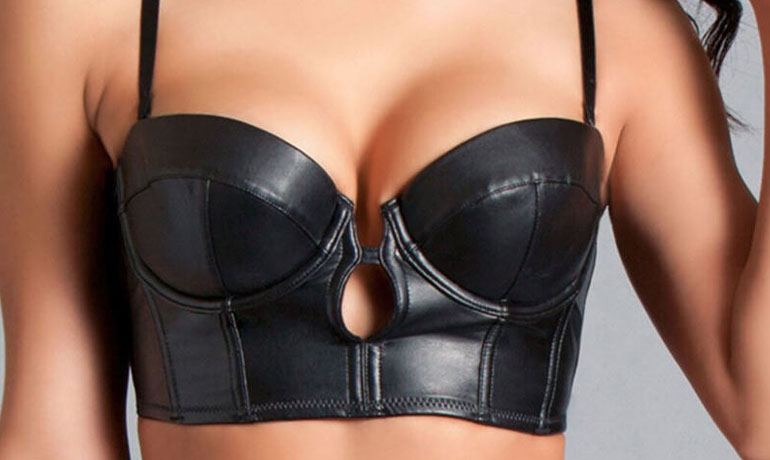 For the women out there who love to take control in the bedroom, the Caterina Bralette is for you. This longline balcony bra is made entirely of a fierce luxe PU finish, giving you seductive mistress looks instantly. Complete with an alluring deep v cut-out plunging neckline and underwire, you can create a mouthwatering style that shows off all of your best assets. You will also love that this bra is insanely easy to put on while creating the perfect fit, thanks to a hook and eye closure with multiple notch settings.
#7. Stretch Lace Bralette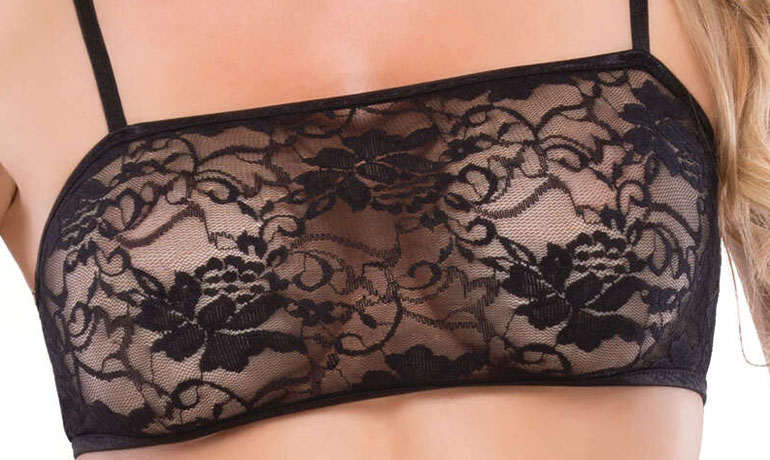 Sometimes, simplicity is key. If you're looking for a subtle bralette that will pair well with all of your favorite lacey lingerie and loungewear, consider the Stretch Lace Bralette. This adorable lacey number is exceptionally versatile and cute. The material offers superior stretch so that you can feel comfortable — even through all-day wear. Not only that, but the fully adjustable shoulder straps ensure you can get the right fit for your breast size. What more could you want from your bralette?
#8. Coquette Cutout Bralette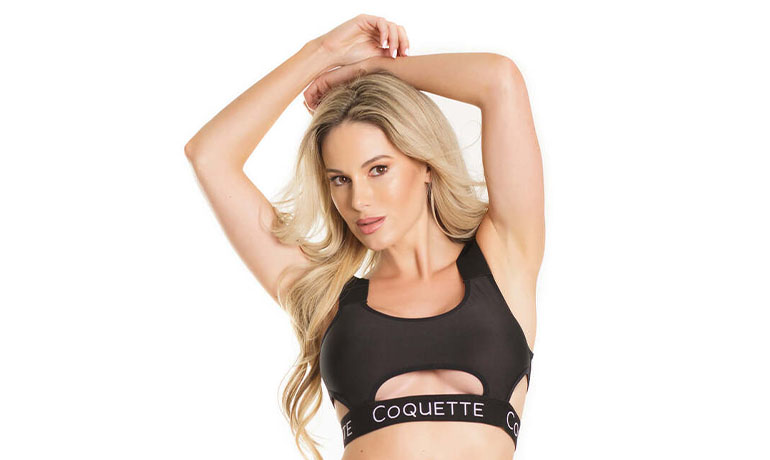 In the market for something you can lounge around in all day yet still look fab? The Coquette Cutout Bralette might be precisely what you're looking for. This bralette combines sexiness with functionality. The pullover style is a cinch to throw on in a rush, while the wide straps and elastic band ensure superior comfort. Consider it your new "t-shirt bra" that you can wear just about anywhere.
#9. Kikko Bralette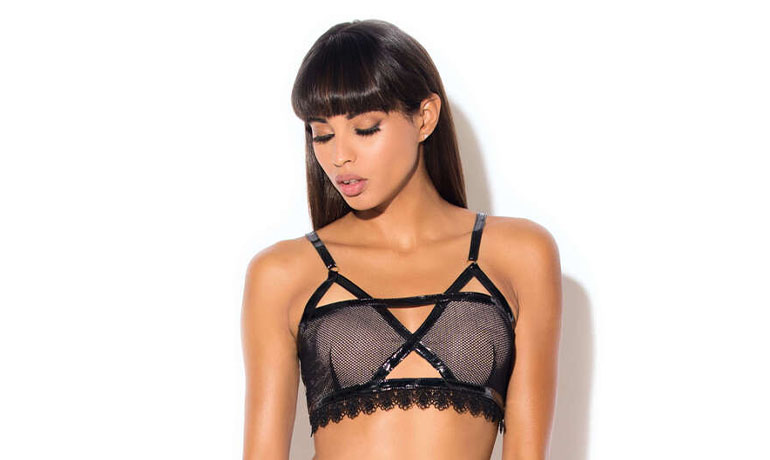 Think of the Kikko Bralette as your "everything in one" option. It's the perfect combination of latex cut-outs, multi-straps, and mesh around the breast area. There is also some charming lace detailing around the ribcage, giving this bralette a little bit of softness against all latex construction. Together, this bralette is an exciting sight that can go well with several bottoms. Give in to your seductive mistress side with leather pieces, or tame the look with some lacey panties.
#10. Playing Koi Bralette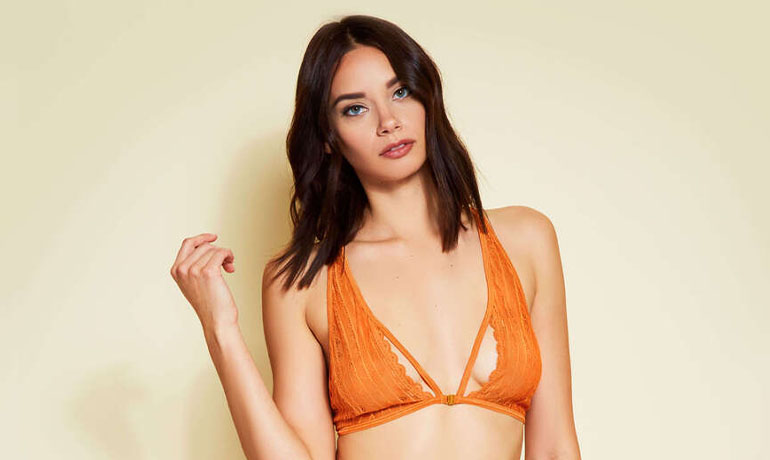 If you're into unique geometric patterns, you might like the Playing Koi Bralette. In front, you will find an unlined soft-cup style with an enticingly low v-neck design. In the back is a simple racerback design with a single string of fabric holding everything together. The Playing Koi Bralette comes in a vibrant orange pattern that will blend well with other colors, making it a playful and sexy option that's anything but coy.
Choosing The Right Type Of Bralette For Your Wardrobe
Not every bralette is made the same (although they are relatively similar in overall design). There are many things to consider when buying a bralette. Here are some of the most critical factors.
— Breast Size
It's simple — your breast size will impact what style of bralette you end up buying. Those with larger cup sizes may want to consider a full-coverage option or one with enough support to handle their bigger busts.
— Overall Size
Bralettes can range in sizes from XXS to XXL and beyond. Finding the right size is imperative. It's different from buying a regular bra, so pay extra close attention when finding the size that's right for you.
— Purpose
Some women search for a sexy bralette to surprise their significant other, so they might opt for a halter neck or scoop neck design with specific patterns and materials. Others are looking for a longline bralette that can double as a crop top when they're out and about in public. They will likely purchase a floral lace bralette or a padded bralette for extra security.
— Comfort
Comfort should also play a role when choosing the right bralette. This could mean shopping for a strapless option or one with stretchy material that will feel like a second skin.
— Wants, Not Needs
Don't forget to throw your wishes into the mix! Don't settle for less. If you want a bralette with removable padding, find it. If you wish for a bralette that can double as a sports bra, don't stop until you get it. If a bandeau is more your type, get it. Every woman will have their desires when it comes to buying a bralette. What's yours?
— Style
Are you going for femininity or fierceness? Maybe a combination of both? There is certainly a style for every woman on this list, no matter their personality. There are even some "relaxed" choices that are great for lounging if that's all you're after. Consider some of the less obvious style options, too, such as a triangle bra cup design or wide straps.
The Bottom Line
There are many different types of bralettes on the market. From tantalizing and edgy leather pieces to relaxed and feminine lace numbers, it's easy for every woman to find exactly what they're looking for. Any of these bralettes are sure to be winners, but make sure you find a style and fit that suits your specific needs.
Frequently Asked Questions
What is the best bralette to buy?
While everyone will have their version of what the "best bralette" is, it's no secret that the Down The Garden Path Bralette is a top pick. The design is flirty and feminine and available in black and white or vibrant purple. It's a comfy bralette that's still impeccably sexy, thanks to the addition of mesh and straps.
What are the advantages of wearing a bralette?
The most significant advantage of wearing a bralette — whether you buy from Amazon, Calvin Klein, Skims, Cosabella, Free People, Nordstrom, Savage X Fenty, or another retailer, is that they are designed for maximum comfort. Some may refer to a bralette as a "wireless bra" because they are unlined and do not (typically) come with any structure or lining. A bralette is also not strictly an undergarment piece. Some bralettes can be worn as crop tops or sports bras, making them a versatile option in and out of the bedroom.
What is the difference between a bra and a bralette?
There are a few significant differences between bras and bralettes. For one, a bralette is far less structured than a bra. It typically does not come with padding or wiring, leaving it less structured than a traditional bra. That said, a bralette is not designed for support like a bra. It can also be worn as a crop top rather than undergarments in certain situations. Many women say that bralettes are far more comfortable than bras, whether they opt for a cotton bralette or leather piece.
What are some different types of bralettes?
If you check out our top ten list, you will notice a wide assortment of different types of bralettes, including strappy, racerback, and sporty. There are plenty more types than this, such as hooded, denim, high-neck, and tie-front. When it comes to bralettes, it's clear there is a type to suit every woman's style – which is just one of the many benefits of going the bralette route.
Do you need to wear a bra with a bralette?
A bralette is meant to replace a bra. Generally, you do not need to wear a bra with a bralette. However, if you require additional support, you can wear a bra underneath. A bra will also be necessary if you plan to wear your bralette in public and it does not adequately cover your breasts.