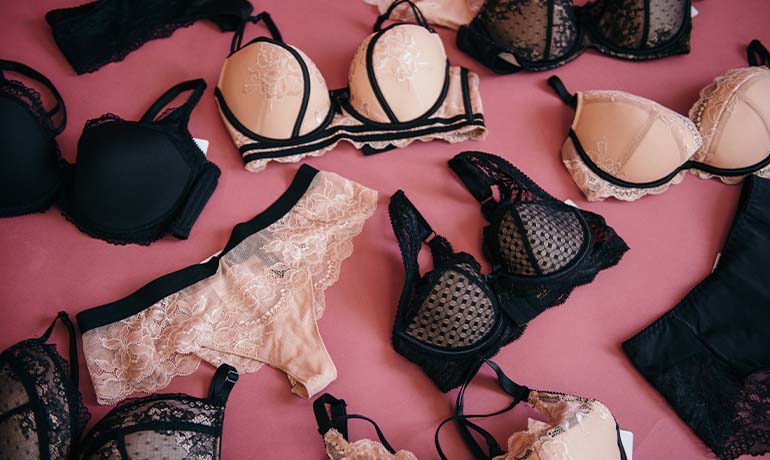 So, you're in the market for some lingerie. Maybe you want something alluring and enticing to spice up your bedroom antics. Maybe you're simply looking for something fashionable and cute to wear around the house. Whatever your goals might be, you'll be met with one thing: a lot of options.
When it comes to shopping for lingerie, it can be somewhat overwhelming. There is a seemingly endless amount of styles. Which one is right for you? If you're on the hunt for your next piece of lingerie but don't know where to start, don't worry — we've got you covered.
This must-see guide of the different types of lingerie will be a game-changer. What are we waiting for? Let's dive in and find the next piece of lingerie to adorn your closet.
Types Of Sexy Lingerie
Lingerie can serve many purposes, from being a necessity to an irresistible piece that wows. Regardless of the purpose, there are many options to choose from. If you don't know what each piece really is, you might buy something you dislike. Keep reading to find out what the most popular types of sexy lingerie are on the market.
— Bra & Panty Lingerie Sets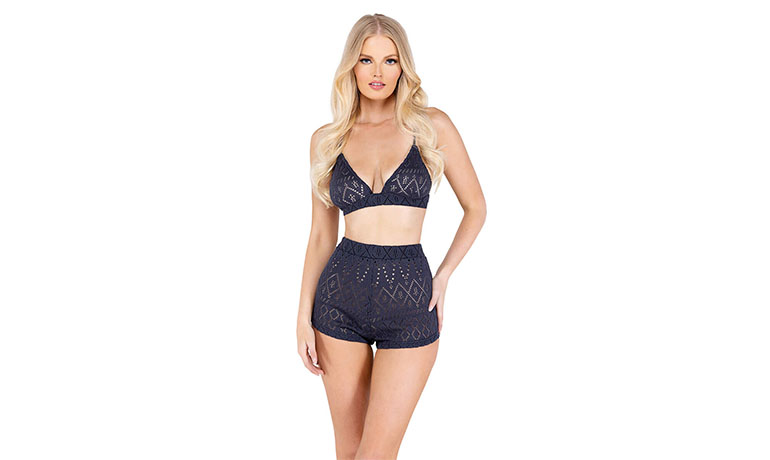 The bra and panty set will be one of the most classic options. The set comes with everything you need, whether you're a girl that loves a lacy number or more hardcore and edgy leather getup. Needless to say, sexy bra and panty lingerie sets come in a wide range of styles. Some are designed with full coverage, while others are crotchless, open cups, or netting.
— Lingerie Costumes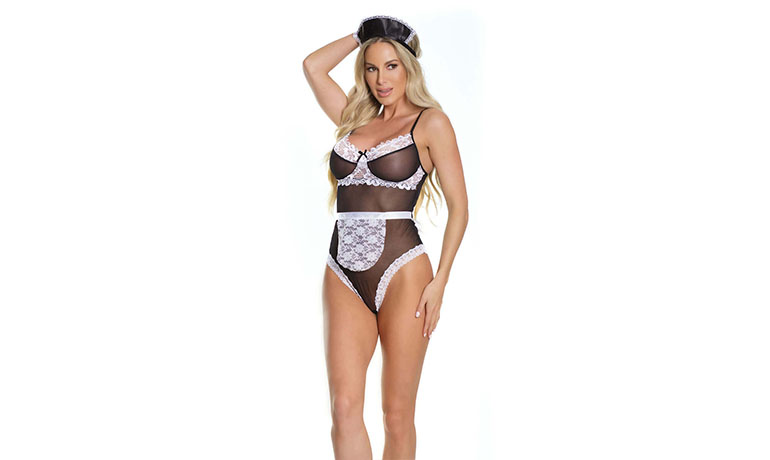 Costumes? Yes, you read that right. Lingerie costumes are designed to take your Halloween outfit to an all-new, sexy level. With sexy lingerie costumes, you can add some fun playtime to your bedroom routine. You can play teacher and student with a sexy schoolgirl uniform or put "out" the fire with a firewoman costume. The goal is to bring some roleplay action — are you and your partner up for the challenge?
— Bralettes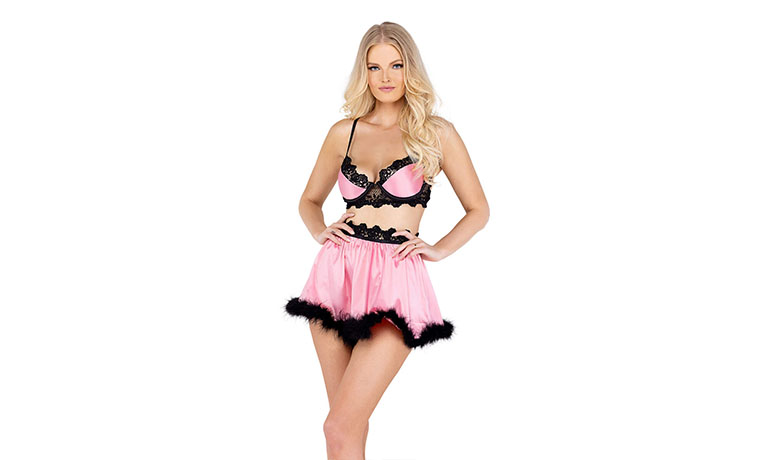 Bralettes are a bit more versatile than other types of lingerie undergarments. This brassiere can be sexy, but it can be casual, too. The bralette is frequently referred to as an underwired bra designed for ultimate comfort. There are many different styles, from lace trim lingerie styles to full-coverage options that can be worn as a top. Bralettes can come as a matching set, but it can be fun to mix and match. Perhaps a cutout bralette with a pair of boy shorts?
— Bodysuits & Teddies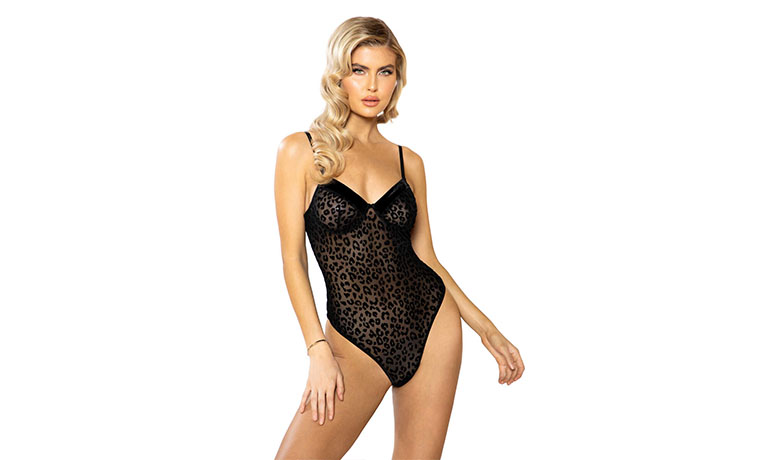 Not every woman considers themselves a rockstar designer, especially when it comes to bedroom wear. Mixing and matching can be a struggle. In this case, you might opt for a delightful one-piece option.
When it comes to one-piece lingerie styles, you have two choices. Bodysuits are a great option if you're looking for something more coy and relaxed. Bodysuits are sexy yet subtle and can even be worn underneath clothing as an undergarment that hugs your body shape. (Ideal option for date night, perhaps?)On the other hand, you opt for teddies. Teddies are known for kicking things up a notch than their bodysuit counterpart. For instance, teddies show more skin and tend to be embellished with more sexy designs and patterns such as lace and garter belts.
— Garters & Garter Belts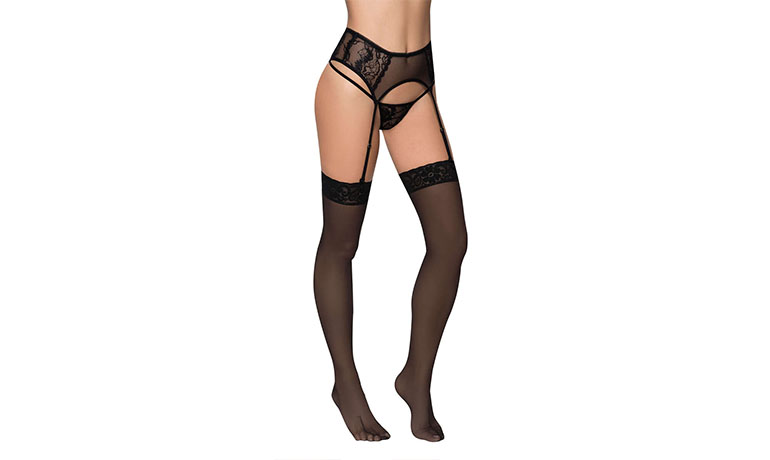 Garter belts and garter stockings used to work together to ensure the stockings didn't fall. In this day and age, garter stockings can stay up all independently. That said, what's the purpose of the garter belt?
Garter belts hug around the waist perfectly, showing a woman's hips and curves magnificently. With straps sliding down her thighs to inviting stockings down below, it's a pairing designed to tempt and attract.
— Bustiers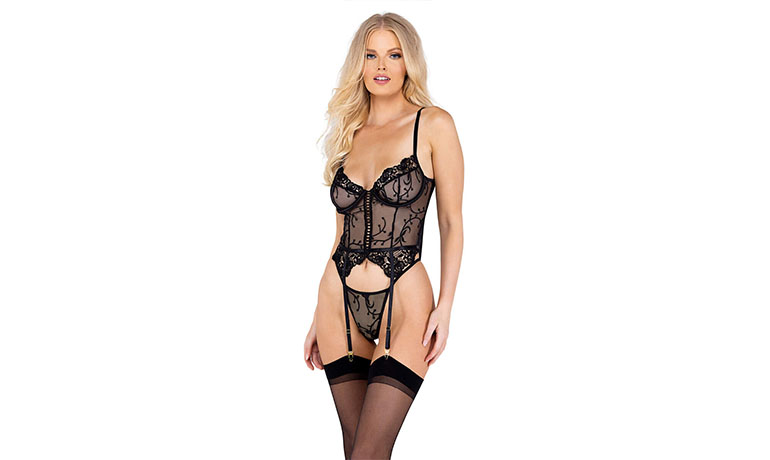 For some women, the right lingerie piece will cinch the waist and put the breasts on full display, creating the perfect hourglass silhouette. For some, that is best achieved with a corset. But if you want something a bit more relaxed with less boning but not loose-fitting, a bustier is an excellent choice.There are many ways to wear a sexy bustier. Some women will enjoy a bustier that covers the entire midriff, while others will stick to something that resembles more of a push-up bra. Regardless of the chosen style, you will enjoy delicious breast enhancement that won't be ignored.
— Camisoles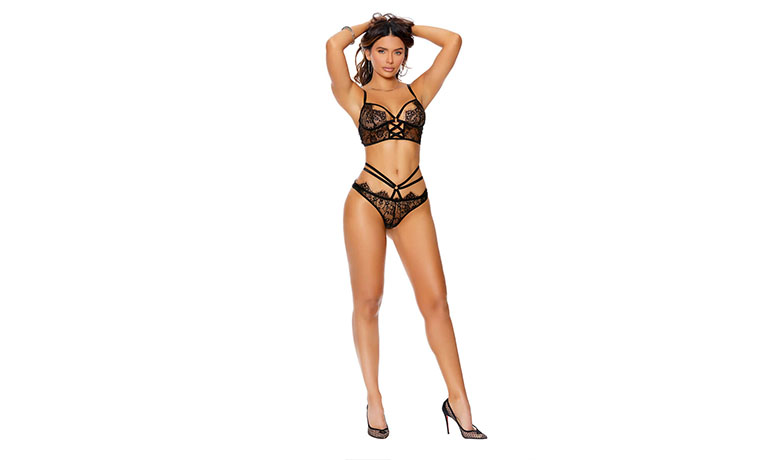 Camisoles (also referred to simply as a "cami") is an excellent choice for women looking for sleepwear that can double as a sexy lingerie garment. A typical cami is designed like a tank top with silk fabric and spaghetti straps, sometimes paired with matching silky shorts (known as tap shorts).
However, don't think that camis are limited to tank top styles. Sexier options such as those adorned with lace and open-front designs are available, taking your camisole favorite to new heights.
— Chemises & Babydolls
Although chemises and babydolls tend to look like your average nightgown, they have distinctive differences. Chemises are designed to be snugger with a body-con style that beautifully shows off your body type. On the other hand, babydolls are more loose-fitting and playful with extra breast support. Due to the flirtier, looser hemline, you can easily wear a matching bra and panty set underneath to give your favorite lingerie set a new lease on life.
— Corsets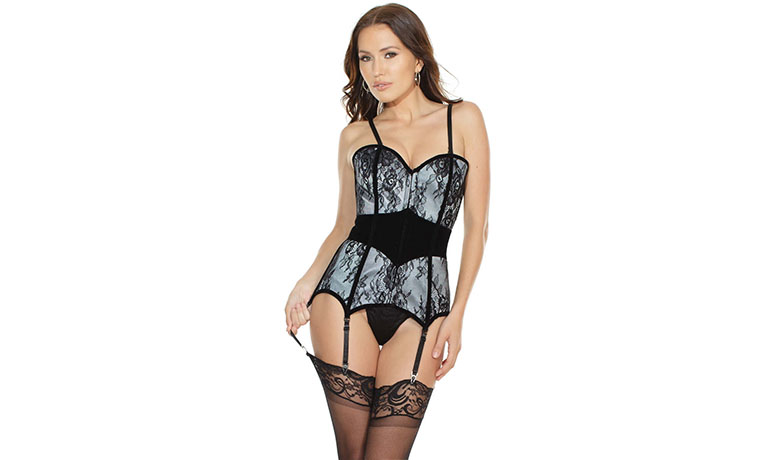 You can never go wrong with a classic corset. Is there room for this piece of lingerie in your dresser drawer, too?If you're looking to cinch to perfection and create a show-stopping shape, look no further than the corset. Corsets have been around for decades with the sole purpose of carving out a woman's waistline. Today, you can find a broader range of style options, such as underbust or lace.
— Rompers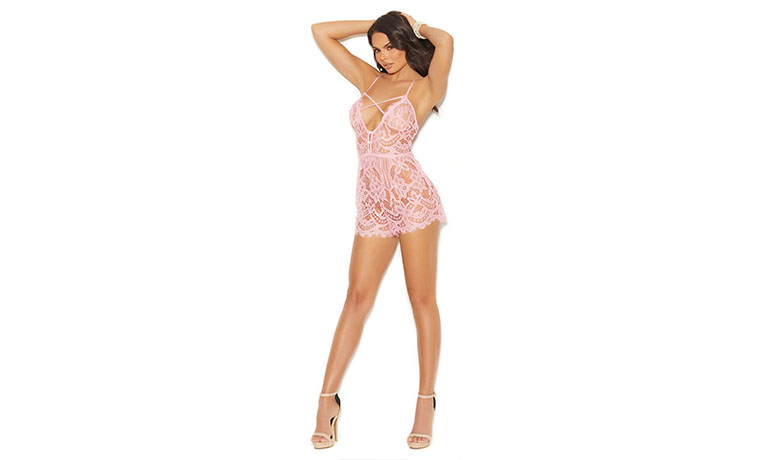 Plenty of women opt for rompers when it comes to their favorite outerwear. They're comfortable, cozy, and easy to wear. The same can be said for rompers as lingerie pieces, too. A romper is typically designed to be more playful and relaxed than other lingerie items. They're one-piece numbers constructed with attached short-shorts that can vary in length. The best part about rompers is they're cute and cozy enough to be worn as everyday loungewear, although you can also find pieces made of tulle or see-through material.
— Bodystockings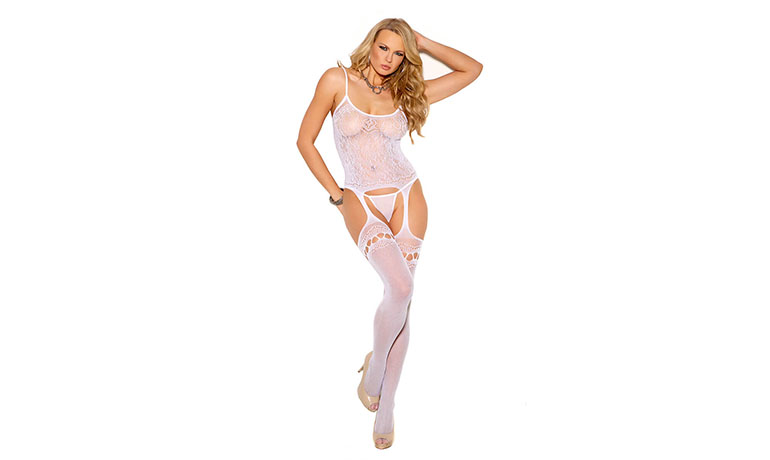 Bodystockings can easily be described as one of the most versatile types of lingerie. Bodystockings act as an extension of bodysuits, covering the legs, torso, and sometimes arms. Whether you're into sheer, lace, fishnet, strapless, low-cut, or sleeveless, a bodystocking is right for you.
One of the most significant benefits of going the bodystocking route is that most are one-size-fits-all, making it much easier to shop for lingerie than other types. (Plus-size babes can also find their size with no problem, too).
Many bodystocking options also allow for customization. For example, if you're wearing a sheer bodystocking, wear your favorite bra and panty matching set underneath. These layers only add to the overall sultry and seduction — your partner won't be disappointed.
— Negligee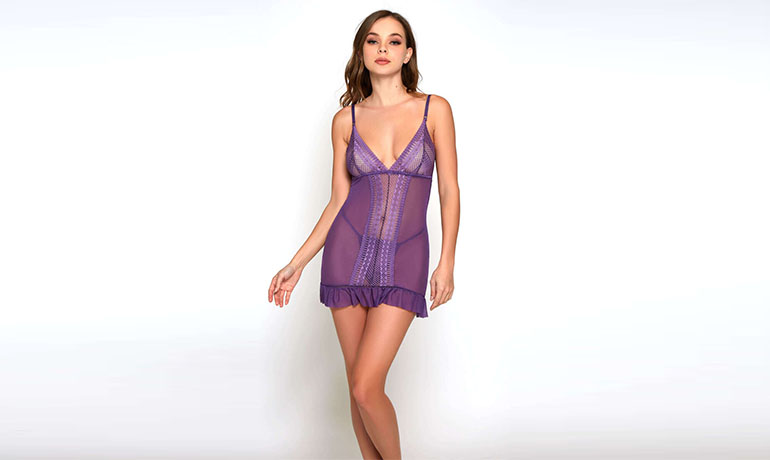 If you just bought a new pair of lingerie and want to tease your lover, a negligee is the best way to do it. These lovely nightgowns are typically made of sheer or other soft materials and keep your goodies hidden until they're ready to come out and play. Although negligees can be referred to as a nightgown or cover-up, they tend to be just as appealing as other types of lingerie. When you're ready to unwrap and unveil the goddess underneath, your partner will be drooling.
— Shapewear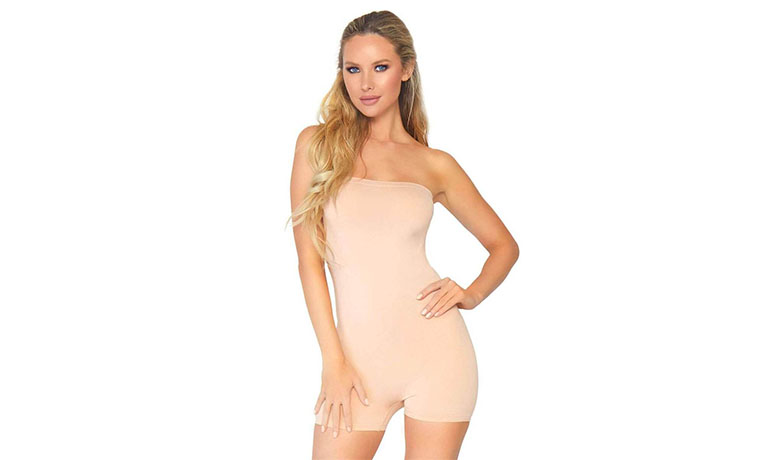 Planning a super special occasion and want to look your absolute best? Shapewear underneath your clothing to the rescue. Shapewear is designed to shape and smooth your entire body, whether you need a little help on the top, bottom, or both. Wear shapewear for a streamlined look that delivers flawless curves every time. (By the way, they also tackle pesky panty lines).
— Slips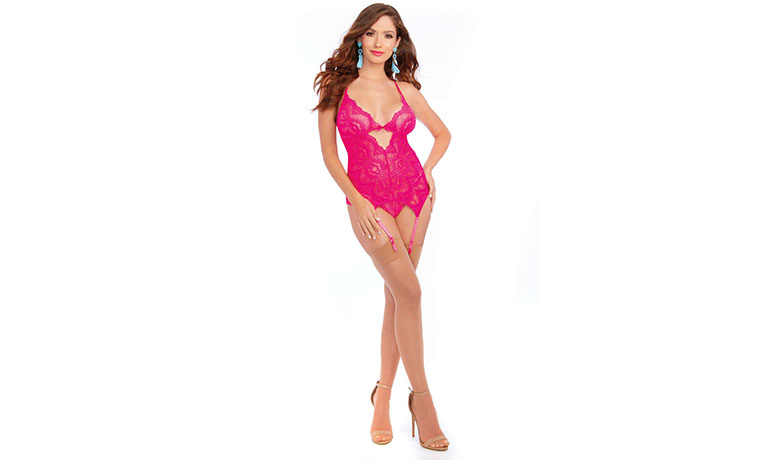 Ready to "slip" into something utterly desirable? Slips are often designed in a slip dress style, although they can also be adorable lingerie numbers. Whether you opt for sheer, lace, silk, or a combination of all three, you can guarantee a flirty lingerie item that wows.
— Thongs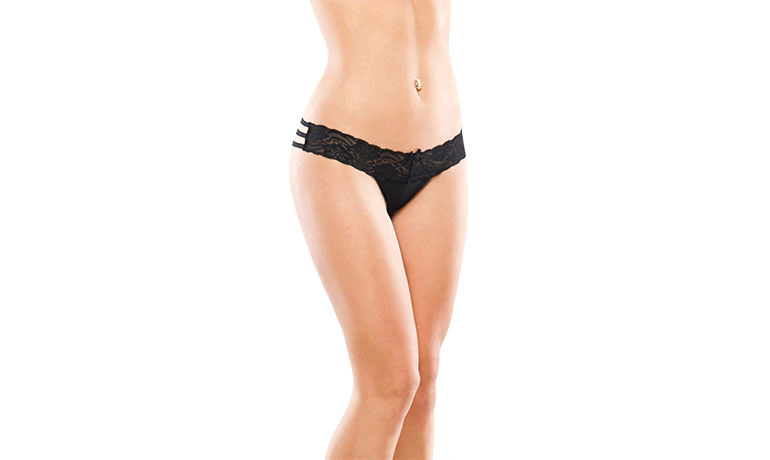 When it comes to lingerie, nothing beats the classic thong. There are a lot of different styles to choose from, making it a breeze to find exactly what you're looking for. Some women prefer the added protection, strength, and comfort of a regular thong, while others want to entice with a stringy g-string.
Choosing The Right Type Of Lingerie For You
Now that you know the different types of lingerie, you're ready to dive in and make a purchase. But wait — you're still a little iffy about which style is right for you. Here are a few of the top things to keep in mind when choosing the right type of lingerie for you.
Your style. Some women prefer something edgy and provocative, while others desire sensuous and flirty. Which one are you? If you're a gal that likes to live on the edge, a leather bra and panty set with suspender belt will work. If you want something coyer, a babydoll will do the trick.
Your body type. Don't forget that your body type will play a significant role in the lingerie you end up buying. You want to buy lingerie that will highlight your unique body type. For example, hourglass figures look incredible with a teddy. A triangular body type will play well with negligees, bustiers/corsets, or anything with ruffles.
Your end game. If you're looking for something cute to wear around the house, you won't want to go for anything too revealing. On the other hand, if you're planning your wedding and really want to "wow" your partner on the first night, you might mix and match multiple styles (negligee or bodysuit with a matching set underneath).
Comfort. I'll be honest — not every piece of lingerie will match comfort-wise. Someone craving a comfortable set will enjoy a babydoll or romper rather than a tight bodystocking.
The Bottom Line
There is a piece and style to suit every woman's needs when it comes to lingerie. The goal is to find something that suits your specific style, occasion, and comfort needs. Whether you're rocking a cool lingerie costume or wearing something more flirtatious like a teddy, you will love the way you look (and your partner will, too).
Frequently Asked Questions
Which type of bra is the best?
There is no "one size fits all" answer to this question. Every woman will deem what she feels is the "best bra," depending on her specific needs.
For example, some women claim that the balconette bra is the best bra due to the support and broader straps that allow for more options for styling. Others will argue that a t-shirt bra or sports bra is best because of the superior comfort. Still, others claim the demi bra is number one because it allows for styles with different types of necklines without showing straps.
What are the two types of bras?
There are far more types of bras than two, which can make bra shopping all the more challenging. However, if we're looking at construction rather than actual style, there are four to choose from: padded, non-padded, wired, and non-wired.
Which type of lingerie is the best for couples?
The type of lingerie that's right for you and your significant other depends solely on your relationship. For example, some couples love to roleplay in the bedroom and will buy lingerie costumes more regularly. Others enjoy BDSM-style play and may enjoy garter belts, leather, and similar looks.
What are the differences between a corset and a bustier?
The most significant difference between a corset and a bustier is how they fit. Corsets tend to be tighter and have more boning compared to bustiers. Therefore they cinch the waist tighter. A bustier has a slightly more relaxed fit, yet still slightly cinches. The bustier places more importance on pushing up and enhancing the breasts rather than cinching. Bustiers come in a lot more styles, too. Which type of lingerie is going to find itself in your arsenal?