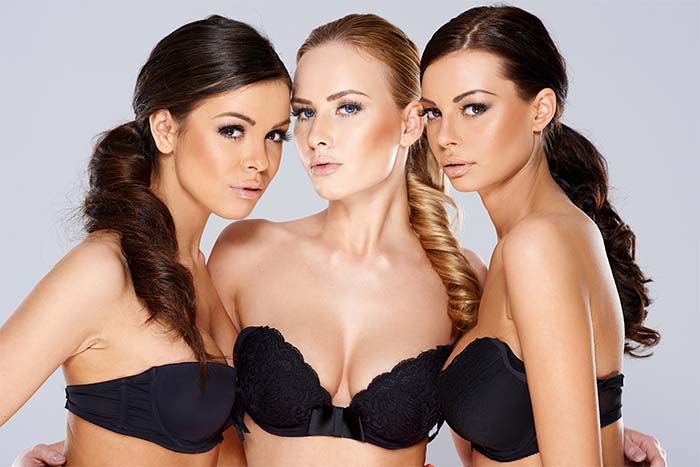 We've all been there. You find a beautiful dress that's Red Carpet worthy, only to realize that's it's a strapless and backless dress design. You'll need a strapless bra to pull it off (otherwise — hello, undergarments). But finding a high-quality strapless bra that still provides some comfort and support can be challenging — especially for those with larger busts.
Well, ladies, I'm here to tell you that anything is possible. Even if you've been a strapless bra denier for the past ten years, I can guarantee you'll find a strapless bra that suits your style and needs below.
We've got you covered whether you need the perfect classic strapless bra to go with that new hot outfit or simply need a new lingerie set to "wow" your man.What are we waiting for? Let's dive into the seven best strapless bras on the market.
#1. Editor's Pick: Hooked Up Invisible Bra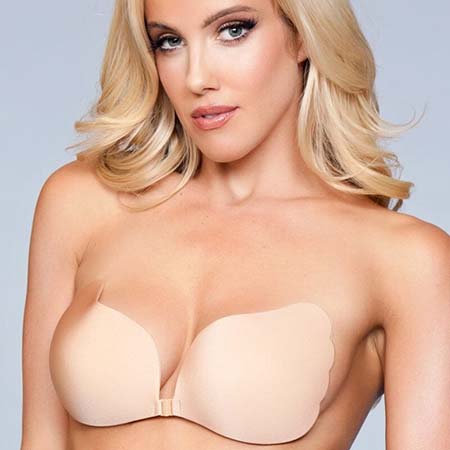 If you're looking for a strapless bra that has it all, look no further than the Hooked Up Invisible Bra. This bra is our top pick and is designed for superior efficiency. The winged design ensures no unwanted bulging, while the front closure makes it a cinch to adhere, hook, and go. You will love that this strapless bra has the right amount of push-up, too, creating an alluringly curvy silhouette with your fave backless numbers. It's a bra that can work for anyone with cup sizes ranging from A to D.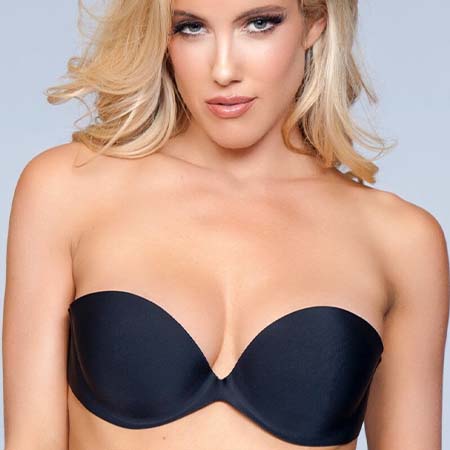 The Right Places Bra really has coverage in all the right places. The actual cup sizes have a bit more coverage, which might be a better option for women with larger boobs. There is also some extra fabric that wraps halfway around the ribcage, giving women a little more security. However, don't think that this isn't a backless strapless bra. There is no back and no straps, making it another top-notch solution for those risque numbers.
#3. Silicone Tie Up Bra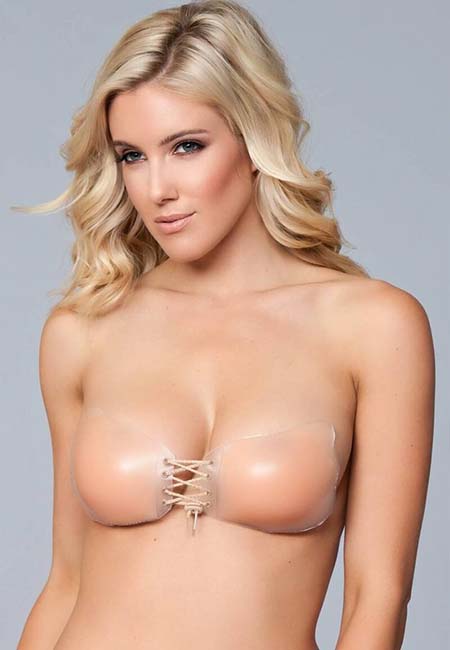 When you're trying to add a little more "oomph" to your look, consider the Silicone Tie Up Bra. We stan this plunge bra because of the middle tie-up, which pushes your breasts together, creating an enhanced and highly pushed-up appearance. Being entirely see-through, this bra can also work with various skin tones. This is the bra you need when looking to turn heads with a plunging neckline.
#4. Smooth Invisible Bra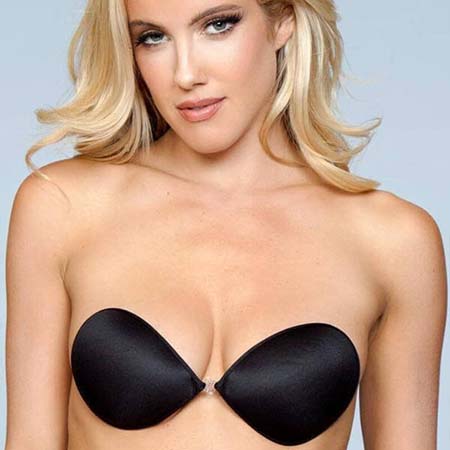 Are you one of those women looking for simplicity with their no-wire strapless and backless bra? Then the Smooth Invisible Bra is for you. This exciting piece is a "barely-there" type bra that covers exactly where you need it to. Being an adhesive bra, it will stay put for an impressively long time. This bra is so minimal and comfortable; it's almost as if you're wearing a second skin.
#5. Vinyl Strapless Bra & Thong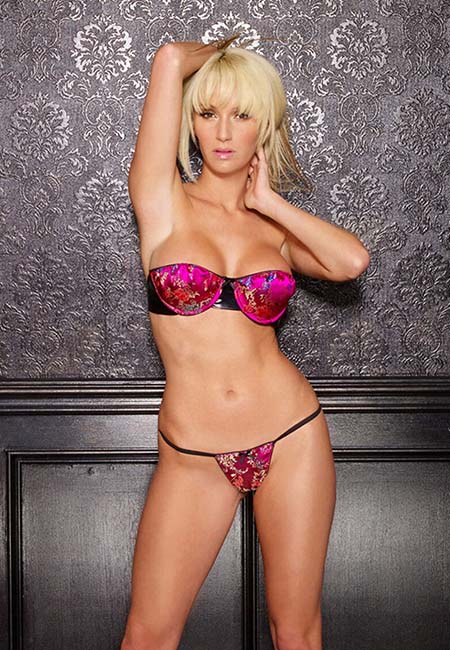 If you're looking for strapless lingerie rather than something to wear with your sexy backless dresses, consider the Vinyl Strapless Bra & Thong set. The combo comes with a compelling black and hot pink floral design that is timeless. You will love the demi-cup underwire contour bra, providing delightful support to perk up your boobs. If you need a little extra support, don't worry — this bra comes with fully adjustable straps, just in case. With a matching pair of g-string panties, this set will please your partner.
#6. Envious Blue Bra & Panty Set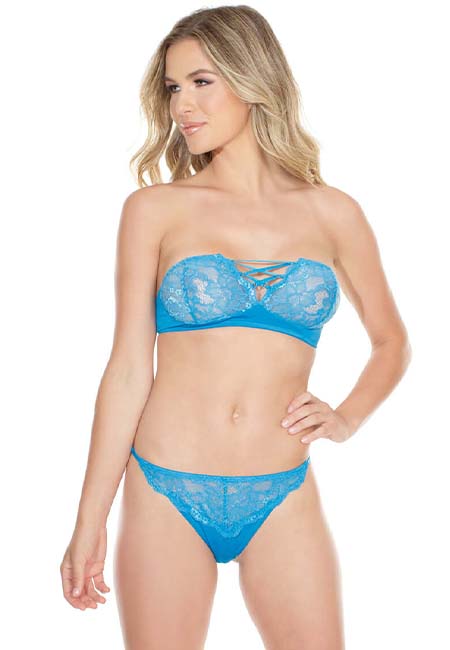 Are you feeling a little blue? Electrify your nighttime antics with this Envious Blue Bra & Panty Set. What's to love about this astonishing number? Aside from the ultra-bright blue shade, the wireless cup bra and thong panties are designed with lovely lace detailing, taking this set to the next level. With a criss-cross pattern down the middle, you can give your breasts a desirable push-up effect that is truly enticing. As a bonus, this set is so versatile and comfortable you can easily wear it underneath a t-shirt and jeans.
#7. Plus Size Envious Blue Bra & Panty Set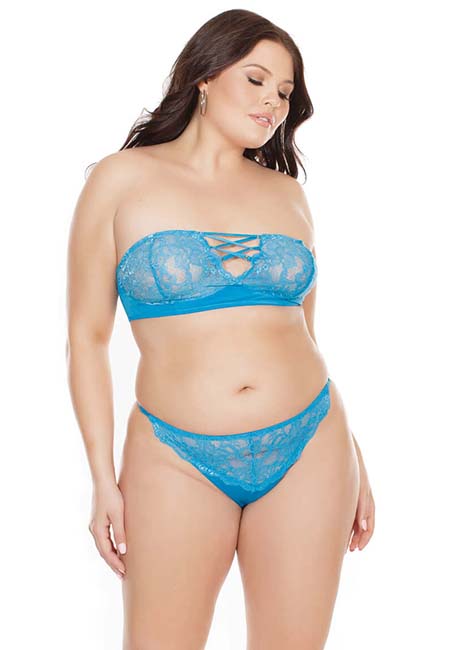 Not every woman is created the same. If you have a voluptuous figure, why not flaunt it? The Plus Size Envious Blue Bra & Panty Set is exactly what you need to show your curves. The bright, lacy blue bralette up top is breathable and works with multiple DDD and up band sizes, while the matching thong panties are nothing short of icy hot. Whether you wear it as a t-shirt bra or save it for a sexy night in with your lover, this bra and panty set won't disappoint.
Finding The Best Strapless Bra Style For Your Wardrobe
It doesn't matter whether you're shopping on Amazon, Wacoal, Nordstrom, or Thirdlove 24. You need to make sure you're buying a strapless bra that works for you. Here are some of the top things to consider.
Lingerie or necessity: The first thing to decide is whether you need a strapless bra for fashion forms or sexy romps in the hay. If you need it for necessity, you'll want to find an adhesive bandeau bra or a regular bra with removable straps. Find a strapless lingerie and pantry combo if you want a set for playtime.
Style: Whether it's for work or play, style is essential. Some women might want more support, so they'll find padding, boning, molded cups, full-coverage, or ties down the middle the best bras. If you're wearing a strapless bra as lingerie, consider the design and pattern of the set, too.
Comfort: Don't forget comfort. Some people might find the most comfortable strapless bra a sports bra, while others enjoy spandex or microfiber that forms to their natural shape. No matter what style you choose, make sure it's something you'll feel comfortable in.
Breast size: I hate to say it, but not all strapless bras work for larger busted women (such as myself). Be careful to find bras that will provide enough adhesive, support, and lift for larger breasts.
The Bottom Line
You'll need a strapless bra at one point or another, whether you're getting dressed up for a luxe night with your gal pals or want to step into the bedroom looking like a model from Vanity Fair. You can't go wrong with any of these delightful bras on this list. Just make sure you're shopping for your needs, likes, and bra sizes.
Frequently Asked Questions
Why does my strapless bra keep falling down?
One big reason so many women shy away from strapless bras is that they tend to fall, making them impossible to wear. With the right tricks, you can put those worries to rest. Here are some of the top tips:
Make sure it's the right size. A bra that's too loose will droop and fall. On the other hand, one that is too small will cause unwanted bulging. Even though you're buying a strapless bra, you still need to measure your bra size for the best results.
Wear tighter clothing. Trying to wear a bra without straps will not work for bulkier, loose clothing. The articles of clothing will tug on the bra, making it fall over time.
Go with more fabric. Not everyone can wear a barely-there bra with adhesive and wings. Some women need more of a band to work with, especially those with larger breasts. Sound like you? Then find a convertible strapless bra or one with side boning for better results.
Buy a new bra. Old bras are no good. This is especially true for strapless pieces. Over time, the bra will wear down and lose its form, leaving you with slippage. Extend the life of your strapless bra by washing in a protective mesh laundry bag and drying flat.
How do I choose a strapless bra?
Choosing a strapless bra shouldn't be too challenging. First, start with what style you're going for. Is it for wearing under clothes or playtime in the bedroom? Then, decide what type you want. Some gals might need an underwire bra, while others enjoy a low-back or longline.
What are the benefits of wearing a strapless bra?
When someone thinks of a strapless bra, they're thinking of a wire-free piece that will allow them to venture into more fashion choices (this is especially true if it is backless, too). However, a strapless bra — whether it's Nubra, Spanx, Natori, or any other company — is also great for comfort. Strapless bras take the strain off your shoulders and back, which will reduce the chance of pain from wearing a bra. Not even halter strap bras or demi-cup bras can do that! Shopping for your next fave bralette, too? Check out the Top 10 Best Bralettes you won't want to miss!