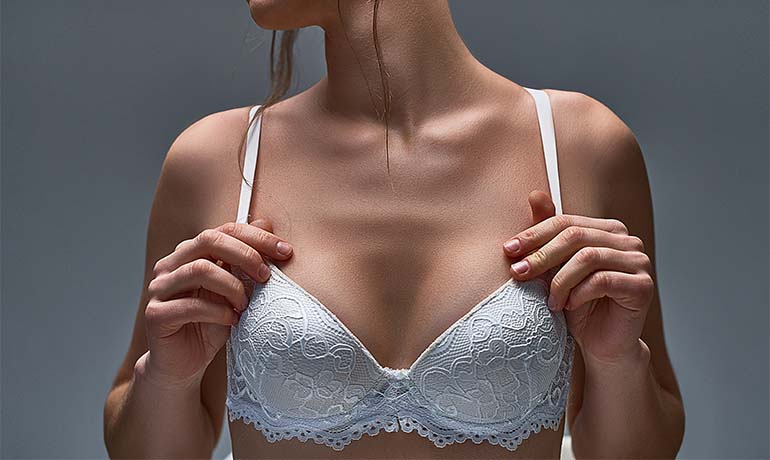 When most people talk about bras, they discuss support, push-up, and comfort typically geared towards large-breasted women. But what about those in the "itty bitty t*tty committee"?
If you've been blessed with small busts and you're on the hunt for a new bra to buy, we've got you covered. We've picked the 12 absolute best bras for small-busted women that won't disappoint.Whether you're looking for the perfect bralette or want a two-piece set to tantalize your mate, you'll find it below. What are we waiting for? Let's dive in.
#1. Editor's Pick: Playing Koi Bralette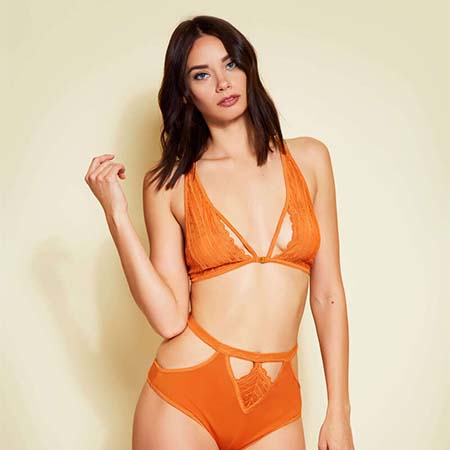 The Playing Koi Bralette is like the Rolls Royce of bras for smaller-busted women. Completely wire-free with a sexy racerback style, this bralette is the go-to for women that want to combine comfort with sass. You will love the playful cutout upfront with lacy detailing down the back. This best-selling number will be a winner, whether you're wearing it underneath your fave dress for date night or skimping around in your underwear on your anniversary night.
#2. Hook Up Bralette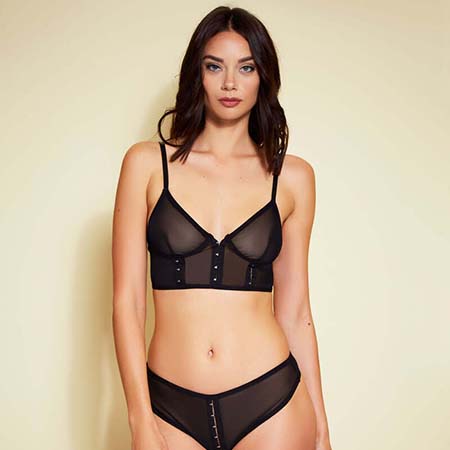 The alluring Hook-up Bralette is designed to "catch" the attention of everyone around. Perfect for those with smaller breasts, the Hook-up Bralette is a desirable mesh piece that leaves little to the imagination. You will love the look and style of this bra, but what you'll love more is the fit. This wireless bra comes with a bit of extra rib-hugging fabric to create a flawless silhouette. The added material also ensures the collection of hooks is on display, adding an edgy factor to this enticing piece.
#3. Kikko Bralette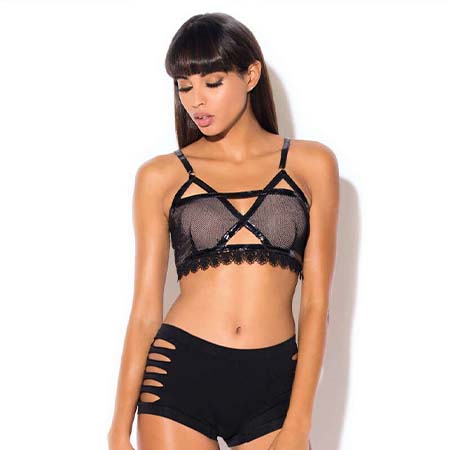 If you're looking for wild bra styles to hold your small breasts, look no further than the Kikko Bralette. The Kikko Bralette is the epitome of fierce fashion and intricate design. The strappy design is made of sexy leather, while the bra cups showcase a sensual mesh design. You will love the exciting cutouts perfectly displayed on a small chest, while the multi-straps add a sense of thrill. Altogether, this is one of the most electrifying looks that shouldn't stay hidden underneath your everyday clothes.
#4. Classic Panty & Top Lace Set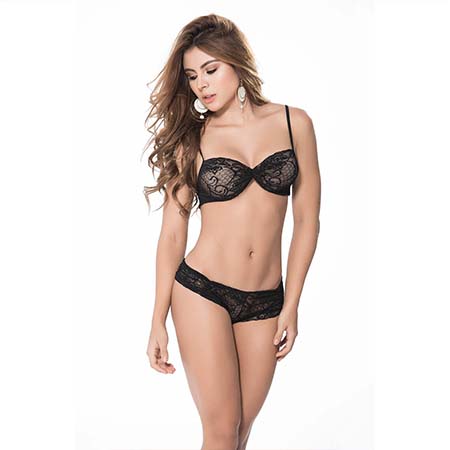 Whether you're buying a cups, b cups, or going for XXL cup sizes, some women are all about the lace, about that lace (no treble — get it?). The Classic Panty & Top Lace Set is designed to be your go-to lacy number. Up top, you will find a glamorous and oh-so-beautiful sheer lacy bra with spaghetti straps. You'll entice below with a pair of ruched lacy panties that show just the right amount of cheek. The best part is, you can find a color that matches your personality with ease — there's an impressive seven colors to choose from, from hot pink to black, hot green to red. Needless to say, if you're a classy gal that loves the classic lacy look, this two-piece is a dream come true.
#5. Crossed Desires Bra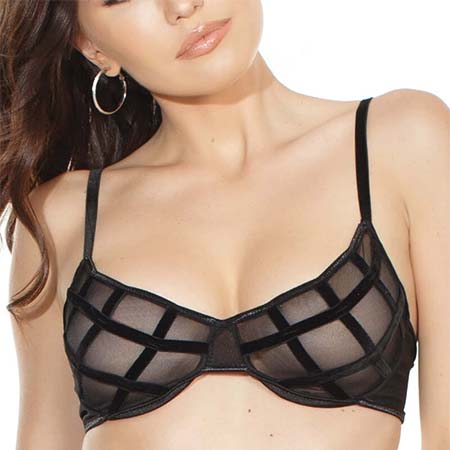 There's a reason why this flirty bra is referred to as the Crossed Desires Bra — it really does create a desirable appearance. So what's the deal with this bra that's perfect for smaller busts, including AAA? It's all about the criss-cross pattern on top of sexy sheer cups. The design is somewhat minimal, but it takes "regular" bra styles up a notch. Oh, and did I mention this is an underwire bra? With a pinch of support, you can enjoy more of a push-up bra style that doesn't compromise comfort. After all, the straps are crafted with alluring velvet.
#6. Flirty Pink Bra & Panty Set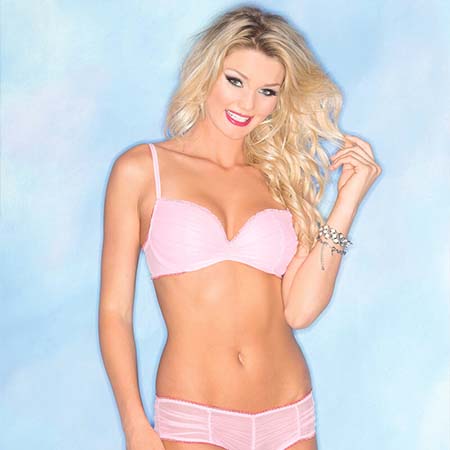 Some gals don't want to be reserved. They want to be fun, flirty, and feminine. What better way to create this look than with perky pinks? The Flirty Pink Bra and Panty Set is exactly what the coquettish gal needs in her life. The bright pink bra comes with a delicious low-cut neckline that shows plenty of the "goods" — even those with small boobs. The look also gets an extra burst of "hotness" with subtle red trim. Down below, you'll enjoy matching ruched pink full-back panties. Do we need to say any more? This duo is sure to impress.
#7. Lavishing Lace Bra & Panty Set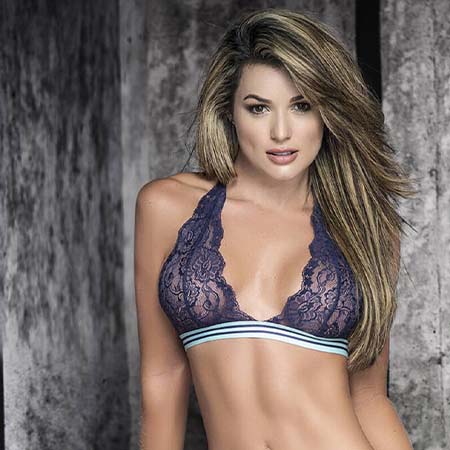 Lavishing? Oh, yes, that's definitely a word we would use to describe the Lavishing Lace Bra & Panty Set. What's unique about this look is that it combines the femininity of lace with the comfy and cool look of a sports bra. That's all thanks to the gorgeous lacy detailing on the cup with an athletic band around the ribs. The mix-and-match appeal of this bra and panty set is undoubtedly unlike anything you've ever seen before, and that's great for you (and your partner — wink, wink).
#8. Scintillating Lace Lingerie Set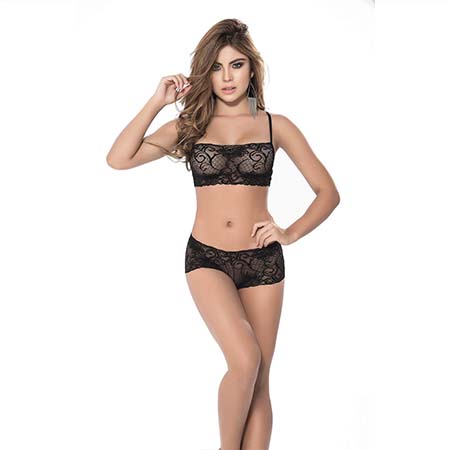 Are you looking for a lacy set with just a little full coverage? Then you will fall in love with the Scintillating Lace Lingerie Set. The bra is more of a classic t-shirt bra with a boxy look covering the breasts. The wire-free bra slips on with ease, but it looks anything but simple. The detailing on the bra and panty is nothing short of flawless, and you will love the added lacy scalloped border to complete the look.
#9. Gorgeous Lace Open Cup Shelf Bra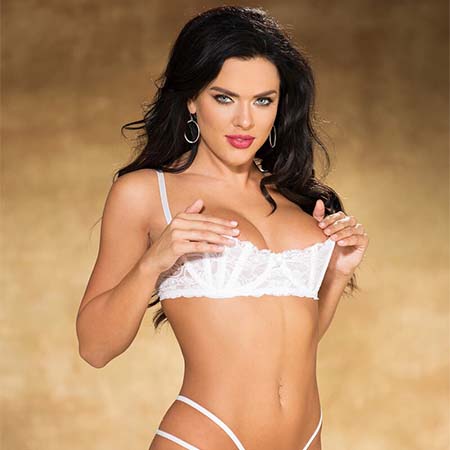 Want a bra that lets it all hang out? If you wish to have your small breasts on display this evening, look no further than this Gorgeous Lace Open Cup Shelf Bra. The bra, in a word, is "wowing." The perfect fit ensures that your busts are the focal point — your partner might not even notice the beautiful lace detailing underneath. This ultra-plunge bra with open cups and adjustable straps still provides enough support, though — don't worry. Being an underwire bra with three boning supports, you can rest assured your breasts get the right amount of lift. Obviously, this bra is anything but an everyday bra and should be reserved for wild nights with your lover.
#10. The Right Places Bra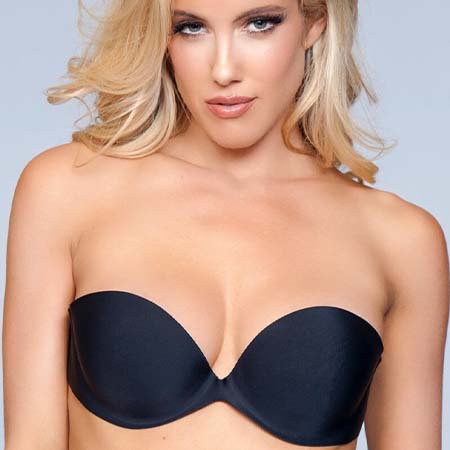 Every woman has that adorable backless dress they can't wait to show off — but trying to wear a bra is seemingly impossible. Well, nothing is impossible with The Right Places Bra. This uniquely designed strapless bra has no back — just adhere it to your chest and enjoy a perfect night. No longer do your favorite backless piece have to be thrust to the back of the closet!
#11. Hooked Up Invisible Bra
Some women are concerned about "lift" when it comes to backless and strapless bras. Even those with smaller busts still want to have a little push-up like those found on other bras such as demi bra, balconette, or padded bras. If you're bra shopping for a backless and strapless piece but still want some push-up effect, consider the Hooked Up Invisible Bra. These sensational and comfortable bras provide an elevated appearance without showing any straps. Perfection!
#12. Smooth Invisible Bra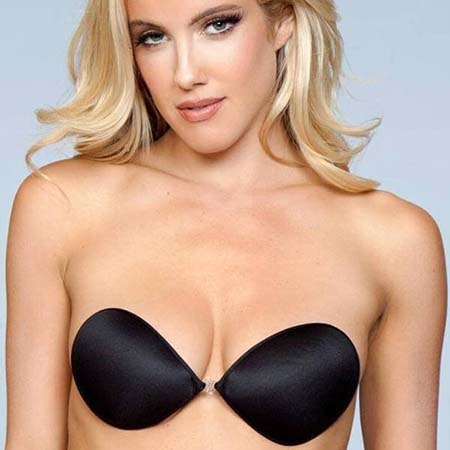 Looking for something that says "less is more"? If you really just need a little padding to wear with your backless and strapless attire, consider the Smooth Invisible Bra. This is probably the tiniest bra you will find on the market, but it works wonders for adding a little "oomph" up top. Don't think about stepping out braless. With the Smooth Invisible Bra, it's almost like you're wearing nothing but enjoying everything.
What To Look For When Choosing A Bra For Small Busts
There are a few key things to consider when you're bra shopping for small boobs, whether you're scrolling through Amazon, finding your fave new Calvin Klein lookalike, or browsing Nordstrom. Let's take a closer look.
Fit. Fit is going to be essential. Everyone has their own opinion on the best look for their breast shape and size. For example, sizes A and B might enjoy a triangle bralette, while others prefer balconette bra construction.
Comfort. Another thing to consider is comfort, both with the straps and the cups. For instance, some might like to have some extra padding, memory foam, or fabric around the ribcage. Others find that their perfect bra has convertible straps or a front closure. Whatever you need for your comfort, find it.
Style. Don't forget the style, too! Are you looking for something sexy like a lace bralette and panty set to entice your lover after a special night? Or are you looking for more of an everyday bra or something to wear underneath your backless dresses and shirts?
The Bottom Line
There are a lot of great bras for small busts, regardless of the lingerie brand you end up choosing (Aerie, Lulalu, Natori, The Little Bra Company, and more). The best part is, there are plenty of styles to choose from, whether you want a demure pink combo or something edgier like a hook-up style. The most important thing to do is look for the fit, comfort, and style you want, and most importantly — embrace your beautifully small breasts!
Frequently Asked Questions
What bra size do I need?
Whether you have large or small breasts, it is imperative to know your size. Otherwise, you could be riddled with discomfort and an odd, unappealing appearance. But how do you know which size is right for you? The best thing to do is to calculate your bra size. All you need is a tape measurer to measure your band and bust size. Then, you can calculate the cup size that's suitable for you. You will enjoy a comfortable fit and flawless silhouette with the right cup size.
What are the best bras for small busts?
There are plenty of options on the market, which is excellent news for gals with small busts. Regardless of your desired style, fit, and comfort level, there's a bra style for you. However, the Playing Koi Bralette reigns supreme. Why? Because it's casual enough to be worn as an everyday bra under clothing but still has the right amount of sex appeal to entice on a spicy night in the bedroom. Overall, the look is cute and comfortable, making it the best of both worlds.
Which bras make you look bigger?
Are you trying to give off the illusion of larger breasts? Then you need to know which bras to keep on your shopping radar. Obviously, the best choice will be a push-up or padded bra. However, don't sleep on other options, such as the demi bra (also referred to as a shelf or balconette) and molded plunge bra styles. You can even opt for wearing two bras at once to increase your bust's appearance.